ODESA – For the second time in 1,000 years, a Viking rune stone has been raised by Odesa's Black Sea waters.

The pretext for raising the latest stone is an event that elsewhere is often commonplace – a victory over corruption.
"I have had more legal battles in my three years in Odesa, than in my 30 years in business," Thomas Sillesen, board chairman of BIIR, a Danish design and engineering firm.
Sillesen stood at the site of his victory over municipal corruption, Primorska 3a, a lot occupied by a dilapidated Soviet-era building, facing the cranes and train tracks of the port. Two years ago, with his engineering outsourcing firm expanding, Sillesen bought the lot from a bank that foreclosed on an owner who had not made payments on his mortgage for almost seven years.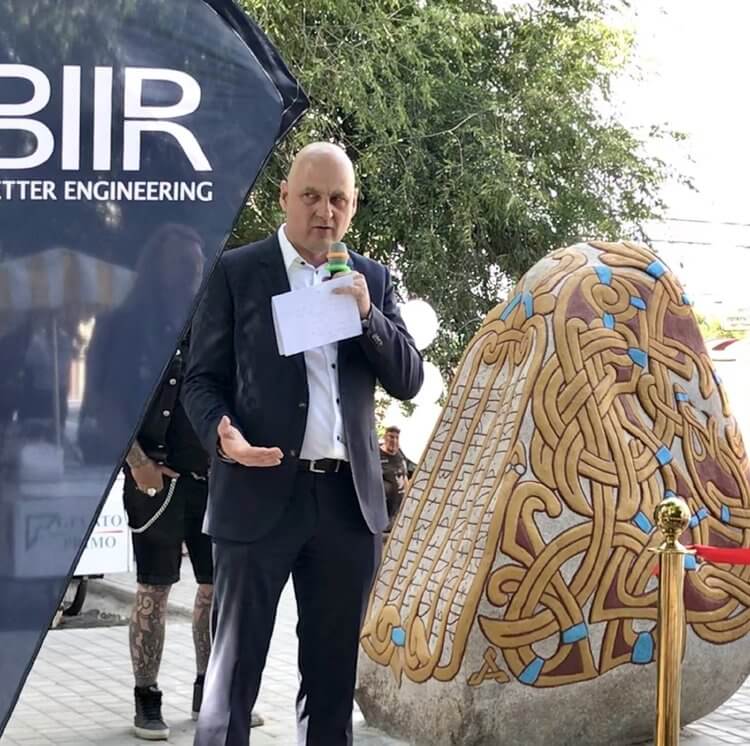 DENMARK'S THOMAS SILLESEN UNVEILS A 6-TON RUNE STONE MARKING HIS BATTLE AGAINST THE CORRUPTION DRAGON (JAMES BROOKE)
Shopping Center Gold Mine
This seemingly straightforward deal was clouded when the owner of the neighboring lot decided to build a shopping-entertainment center. Immediately, the previous owner started fighting to reassert ownership. Decisions by local judges and prosecutors went his way.
Sillesen fought back, taking his case to Prime Minister Groysman, the EBRD, Members of the European Parliament and the press. Eventually, the pressure became too great. The Odesa Appellate Court ultimately ruled in Sillesen's way in February.
Sensing victory, Sillesen commissioned Eric Sandquist to carve and color a rune stone from Jutland granite in the style of the Vikings who plied the Black Sea and the Dnipro River in the 10th century.
On one side is the mask of Odin – the ancient Norse god of war, knowledge, wisdom and protector against evil spirits.
On the other side, is a raven, the war bird of the Vikings. The black bird clutches the snake of corruption in its claws.
Sandquist inscribed the six-ton boulder with the same runic alphabet used 1,000 years ago by Grani to carve a stone memorial to Karl, his business partner. This memorial was discovered in 1905 on Berezan, a Dnipro delta island 40 km east of here. Today, the ancient stone is in the Odesa Archeological Museum – only 200 meters up a hill from Sillesen's dock side stone.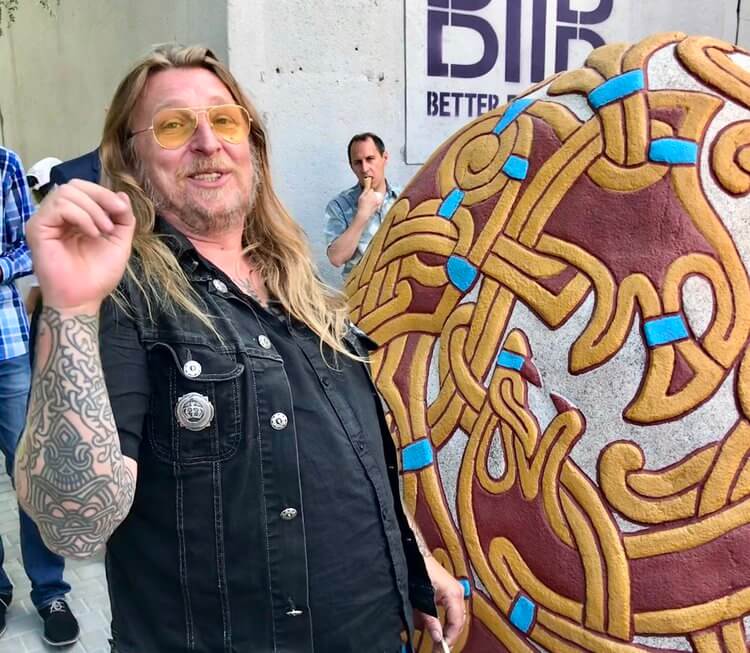 SWEDEN'S ERIC SANDQUIST BROUGHT HIS RUNE FROM JUTLAND, DENMARK TO ODESA. THE TWO-WEEK TRUCK  JOURNEY WAS DEEMED SIMPLER THAN BRINGING THE STONE IN THROUGH ODESA'S PORT — 500 METERS AWAY FROM THE BIIR SITE (JAMES BROOKE)
Round One?
Sillesen, a bullet-headed man with the build of a prize fighter, is enough of a realist to see that this may only be round one in the battle to curb corruption that retards economic growth in Odesa.
At the port, ships no longer arrive flying the flag of Maersk, the world's largest container ship operator. In March, the Danish carrier curtly announced it was ending services to Odesa, directing customers to nearby alternative ports.
Sillesen says the same bureaucratic barbed wire that entangled him scared off a Danish company that would have hired 500 workers in Odesa to build steel frames for wind turbines.
"We found the site for them, then we lost in court," Sillesen recalls of his initial proceedings in the Primorska 3a site. "They ended up deciding 'no'. We set them up in Vietnam."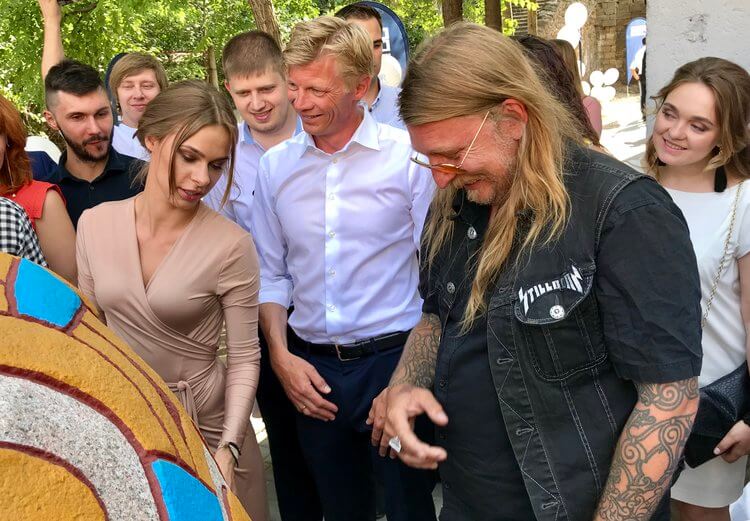 AT THE UNVEILING, BIIR PARTNER/MANAGER, ESBEN ESKEROD, JOINS SANDQUIST AND BIIR EMPLOYEES IN EXPLORING THE RUNE (JAMES BROOKE)
Denmark Needs Odesa Engineers
On the up side, publicity over the case is winning more business for BIIR, which is based in Aarhus, Denmark's second largest city.
In addition to having such blue ribbon Danish clients as Maersk Oil and Vestas Wind Systems, BIIR helps smaller Danish companies that are outgrowing the country's workforce.
"In Denmark, we have the lowest unemployment ever," he said of the nation's 4.8% rate. "There is a huge pressure to find engineers. A lot of Danish machine factories are not getting engineers they need. We help these companies survive."
Competing Danish engineering companies have set up outsourcing operations in Poland and Prague. Sillesen says Ukraine's image scares them from going further east.
Despite the competition, BIIR's challenge now is to manage growth. With half of the company's workforce of 250 working in Odesa, Sillesen believes that he will add another 100 Odesa jobs over the next year.
"The funny thing about our corruption case is it makes us popular in Denmark," he said. "In Denmark, people appreciate the fact that we have principles, that we will fight for our principles."