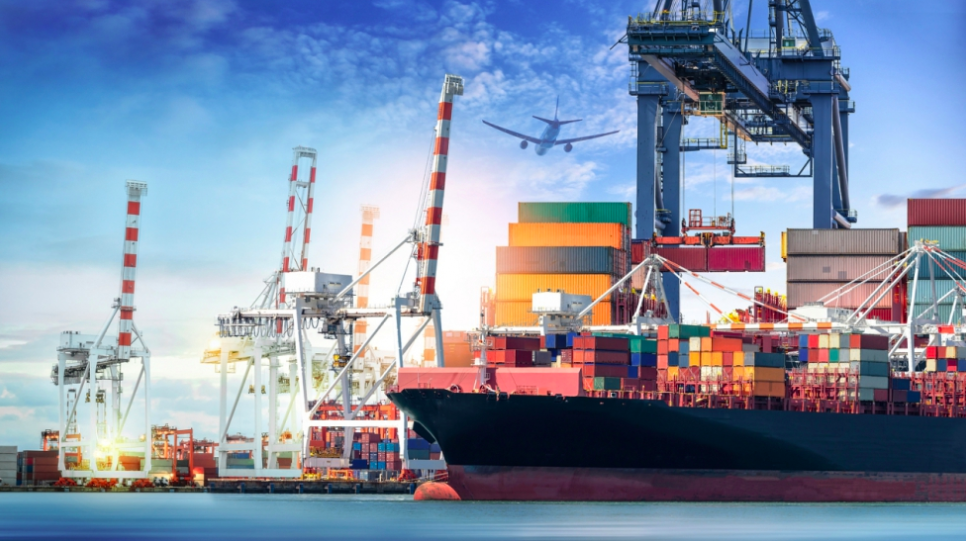 Friday, October 18
Sea Cargo Up 19%...Early Grain Exports Point to Another Record Year...Dnipro River Cargo Up 26%...Landlocked Belarus to Build River Port to Export Through Ukraine...Air Traffic up 19%...Hotshot Lviv Sees Traffic Jump 38%, Direct Flights to 30 European Cities...Dnipro Airport Rebuild Starts Next Year
Ships and planes give insights into the real economy. Last week, the Kyiv International Institute of Sociology, estimated that 47% of Ukraine's economic activity is off the books. Today's nine-month transportation numbers tell us what is really going on out there.

Shipping:
Through September, Ukraine's seaports handled 19.4% more cargo than during the same 9-month period last year. Grain and ore accounted for slightly more than half of the 114 million tons. Grain was up 37%. Ore was up 32%. Containers were up 21%, to 713,000 according to the Ukrainian Sea Ports Authority.
Reflecting the dominance of unprocessed commodities in exports, Ukraine exported almost five times as many tons as it imported — 86.3 million tons versus 18.6 million tons. Although exports are up 23.5%, and imports are up only 13%, Ukraine still runs a trade deficit in goods.
Four Black Sea ports handle 87% of the cargo. Growing above the national 19% average were the top three: Pivdennii (Yuzhne) +28%; Mykolaiv +20%; and Chornomorsk +24%. Lagging was Odesa +17.5%. With ever larger vessels docking at Ukraine's ports, the number of ships was virtually flat, rising by less than one percent. Despite pressure from Russian Coast Guard ships on the Azov, Mariupol managed to reverse its 2018 cargo decline. Through September, cargo handling increased by 2.3%, to 4.6 million tons.
Since the July 1 start of the marketing year, Ukraine has exported 15 million tons of grain, 36% more than during the same period last year. Similarly, oilseed exports are up by 66% during the same period, to 3 million tons, according to Ukraine's Service for Food Safety and Consumer Protection. Last week, Dmitry Sologub, a deputy central bank governor, predicted the overall grain harvest could hit 80 million tons this year, up 14% over last year's record 70 million tons.
Dnipro River cargo is up 26.4% through September, hitting 8.3 million tons, reports the Sea Ports Authority. Reflecting the use of larger barges, the number of river trips is down 32%, to 8,644. Grain cargo doubled, to 3.4 million tons. Metals were up 27%, to 1.2 million tons. Last year, 10 million tons of cargo moved on the Dnipro. During the late Soviet era, 60 million tons moved on the river. The Rada is debating an 'Inland Waterways' bill designed to facilitate public and private investment to allow for 24-hour shipping by modernizing locks, buying buoys, dredging the main channel.
Landlocked Belarus is investing $20 million to construct its outlet to the sea — through Ukraine. Belarus has contracted Beltopenergo, a Minsk company, to build the first stage of an international port at the southern Gomel region village of Nizhniya Zhary, reports Alexey Avramenko, Belarus' Transport, and Communications Minister. Parallel to construction next spring, Ukraine will conduct a $3.2 million dredging project to ensure a minimum navigable depth from Belarus to the Kyiv Sea, says Viktor Dovhan, an international advisor to Ukraine's Infrastructure Ministry.
River barges will carry cargo 1,000 km from Belarus to Kherson, where the cargo will be reloaded on seagoing vessels. Dovhan estimates that by 2025 this will add 7 million tons a year to cargo handling at Kherson port. In preparation, Belarusian Shipping Company is modernizing its fleet to allow two-barge caravans — carrying a total of 3,000 tons — to make the Gomel-Kherson voyage, company manager Sergey Zubko tells Ports of Ukraine.
AIR
Through September, traffic is up 22% at Kyiv Boryspil, compared to the same period last year. The nation's busiest airport handled 11.6 million passengers, about 43,000 a day.  Charter passengers accounted for 24%. Transfer passengers accounted for 22%, down slightly from last year. Through August, traffic at Ukraine's top 10 airports was up by 19.4%, to 16 million. To cope with growth, Boryspil starts next year a 5-year, $300 million expansion plan.
By contrast, traffic at Kyiv Sikorsky was down 7% through September, to 1.9 million passengers. Traffic was hit by Boryspil's opening last spring of Terminal F, which attracted Ryanair, SkyUp, Yanair, and other discount airlines. In addition, the airport, located in Kyiv's right bank Zhulyany district, was closed for 10 days in September for repairs of its sole runway.
Lviv is Ukraine's fastest-growing major airport, recording 38% growth through September. Of the 1.7 million passengers, 91% flew internationally. In 10 days, Wizz Air starts flights from Lviv to Lanarca. Next spring, Wizz Air and Ryanair start flights from Lviv to Budapest. By the end of next month, Lviv will have direct scheduled flights to 32 cities, almost all in the EU.
Next week, SkyUp becomes the first airline to base an aircraft in Lviv. The move comes as Ukraine's discount airline, opens six routes in six weeks from Lviv: Kharkiv, Kyiv Boryspil, Paris Beauvais, Prague, Sharjah, and Tel Aviv. Tatyana Romanovska, Lviv airport director, said Thursday: "This is a big event, because basing airplanes is a new qualitative stage in the development of the airport and a logical step, given the performance indicators that we have been achieving lately." In the first nine months of this year, SkyUp carried 1.2 million passengers. Eighteen months after launch, SkyUp ranks in 6th in the OAG ranking of Ukraine routes – 9,279 seats each week.
By 2024, the Zelenskiy government aims to increase air passenger traffic by 60%, to 32 million a year, according to a plan approved by the Cabinet of Ministers. Extending the current air traffic revolution, the goal is to more than triple the discount share of the market, from 18% today to 63% in 2024. The government "said that the development of passenger aviation in Ukraine would 'increase the mobility of the population and have a positive impact on labor productivity," reports Routes Online in an article headlined: "Ukraine Eyes Further LCC Growth." Perhaps following the political winds, the Kyiv Court of Appeal recently canceled a previous decision to suspend the license of SkyUp.
Italy's Ernest Airlines opens its representative office today in Kyiv's Podil neighborhood. Next year, the airline may base two jets in Ukraine. Catering largely to Ukrainian tourists and workers in Italy, the discount airline has built-in two years a network of 13 Ukraine routes – Kyiv Sikorsky to Bergamo, Bologna, Genoa, Milan Malpensa, Naples, and Rome; from Lviv to Bergamo, Naples, Rome, and Venice; from Kharkiv to Milan and Rome, and from Odesa to Rome.
Zaporizhia airport reopens Tuesday, Its new runway is to be completed in time to handle a flood of visitors for President Zelenskiy's Oct. 29 Donbas conference in Mariupol. A newly rebuilt highway connects the Zaporizhia with Mariupol, Ukraine's largest port on the Azov. Within weeks, Zaporizhia is to inaugurate a new steel and glass passenger terminal, built to handle 1 million passengers a year. With Zaporizhia positioning itself as the main airport for Ukraine's southeast, SkyUp starts flights in the coming days from there to Kyiv Boryspil, Sharjah and Tel Aviv. With 10 destinations planned by next June, SkyUp mulls stationing a jet in Zaporizhia.
Zaporizhia will further benefit from the 2020-2021 closure of Dnipro airport, 100 km to the north. On Thursday, Dnipro Mayor Boris Filatov announced that the Rada Budget Committee has allocated $40 million to start rebuilding the Soviet-era landing strip. Last week Zelenkiy told reporters: "We will build an airport in Dnipro in 2020. Nothing is postponed."
 As part of the two-year, $110 million total rebuilds, Alexander Yaroslavsky, head of Kharkiv's DCH Group, has promised to rebuild the Dnipro air terminal. Earlier, Yaroslavsky rebuilt and promoted Kharkiv airport. This regional success story recently handled its one-millionth passenger for 2019. By contrast, by August, Dnipro handled one quarter fewer passengers than Zaporizhia's 330,000. Dnipro has one third more inhabitants than its southern rival.
From the Editor:  In visits to Dnipro and Ivano Frankivsk, President Zelenskiy has promised to rebuild the runways of the two airports, the worst performers of Ukraine's top 10 airports. Some of the anemic growth stems from both airports blocking SkyUp and Turkish Airlines from landing. Coincidentally, both airports are controlled by the President's media backer Ihor Kolomoisky. He also controls Ukraine International Airlines and Windrose Airlines. It would be a shame if public money is spent to benefit monopolies. Best regards Jim Brooke jbrooke@ubn.news.