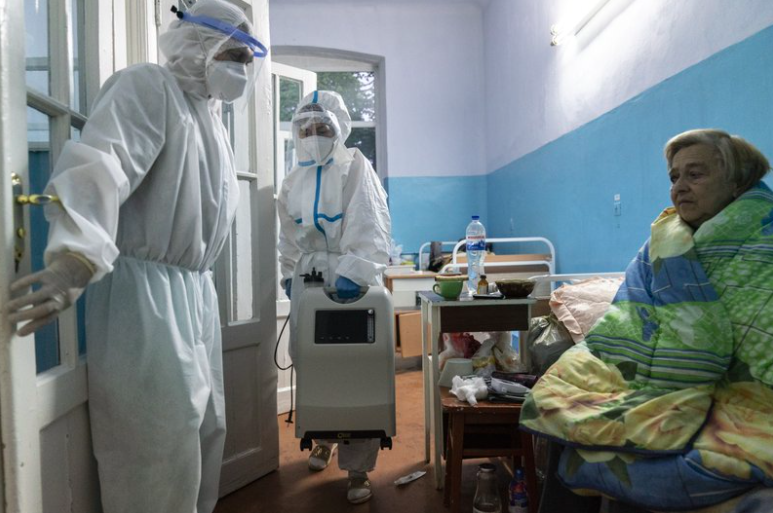 Friday, November 27
As Covid Beds Fill Up, Officials Debate December Lockdown...Finance Ministry Says It Agrees with IMF on 2021 Budget...Judges Cost Ukraine Billions in Soft Loans...Europe's Green Bond Vogue Reaches Ukraine...Mobile Internet Planned for Road and Rail
With 76% of coronavirus unit beds occupied in Ukraine, authorities fear the country cannot make it to the Christmas holidays without imposing a major lockdown. One option would be to impose a lockdown after schools let out in three weeks for the Christmas break, on Friday afternoon Dec. 18. Arsen Avakov, Ukraine's powerful Interior Minister, argues for an earlier, faster lockdown. "We need to introduce a lockdown as soon as possible, for three to four weeks," he said on Ukraine 24 TV. "We are talking about really systemic, huge risks to our people's health."

Driving the urgency are record numbers. Yesterday, the reported daily toll of new infections hit 15,331 and the daily death toll hit 225. New infections in Kyiv yesterday hit 1,399.  The Health Ministry reports that of the nation's 57,446 hospital beds for Covid patients, only 13,653, or 24% are free. Last month, President Zelenskiy drew the lockdown red line at 9,500 new cases a day. Days later, he moved the line to 15,000 daily cases. At a minimum, the government is expected to extend the weekend lockdowns. They were to end after this weekend.
The Finance Ministry says it has reached agreement with the IMF on the size of Ukraine's 2021 budget deficit. By postponing an increase in the minimum wage to the end of next year and taking other measures, the Ministry cut $1 billion off the $47 billion budget, reducing the proposed deficit from 6% to 5.5%. The budget must be approved in December. To restart the IMF agreement, the Rada has to pass laws to restore and protect anti-corruption agencies.
Ukraine has only received half of $6 billion international funding expected for this year, Finance Minister Serhiy Marchenko said last night on the Right to Power talk show. Alluding to foot dragging by the Rada and obstructionism by the Constitutional Court, he blamed "non-adoption of laws in time, and because of decisions of judges."
President Zelenskiy is about to sign a bill that would provide state guarantees for 'green bonds' to help pay Ukrenergo's overdue debt to solar and wind producers, Acting Energy Minister Yuriy Boyko told reporters yesterday. With the overdue debt approaching $1 billion, the government might launch $400 million worth of green bonds, he said. Later in the day, a Finance Ministry investor relations manager Alla Danylchuk emailed Bloomberg, saying the Finance Ministry has no plans to issue green bonds.
The government plans to close about half of the nation's 33 state-owned coal mines during this decade, Deputy Energy Minister Maxim Nemchinov said yesterday at the presentation of a presentation of the results of a poll of residents of coal mining towns. The most economically promising mines are around Vuhledar, a Donetsk area which produces both anthracite and bituminous coals. The Ministry is studying British and German experiences with closing mines and retraining and often relocating miners. Last year, the ministry changed its name from Ministry of Energy and Coal Mining to Ministry of Energy and Environmental Protection.
Ukrzaliznytsia has approved a framework agreement to allow private locomotives to operate on UZ tracks. The signing of the first contract with a company, Ukrainian Locomotive Construction Company LLC, should happen "as soon as possible," Infrastructure Minister Vladyslav Krykliy said yesterday. Based in Lviv, Ukrainian Locomotive plans to haul freight on nine sections of track in Western Ukraine. The Ministry's press service said: "Interest from the market was significant." Private freight railroads already operate in all of Ukraine's EU neighbors – Poland, Slovakia, Hungary, and Romania.
The Digital Transformation Ministry has set these targets for extending high speed mobile internet across the country: accessible to 90% of the population by July 1, 2021; all international highways by Jan. 1, 2023; and all national roads by July 1, 2024. Digital Minister Mikhail Fedorov tells reporters in Kyiv: "Next year we want to focus on the coverage of roads and strategic highways."
For rail travel, Vodaphone Ukraine is conducting a pilot project with the 35 km Boryspil Airport Express to determine cost for high speed internet coverage on Ukraine's main rail lines. With about 10,000 km of main lines to cover and 3,000 passenger cars to equip with internet, public investment will have to complement investments by the three mobile operators, Olga Ustinova, general director of Vodafone Ukraine, told reporters Tuesday. For road and rail, she said, Ukraine's three mobile providers – lifecell, Kyivstar and Vodaphone – plan to finance about one third of the mobile internet cost.
With domestic tourism the trend, Ukrzaliznytsia seeks to win at least half of all tourists, luring them out of cars and buses. To attract riders, the state railroad has reduced prices of first class tickets and created an easier, online system for redeeming tickets before departure dates, Volodomyr Zhmak, UZ's new CEO, told tour operators yesterday. Aiming at the highest end, the railroad is renovating for public charters the VIP cars that once were the preserve of the Communist Party elite. Through October, the number of train tickets sold in Ukraine dropped by 56% yoy, to 57.5 million.
In a boost for Carpathian tourism, Ukravtodor inaugurates tomorrow 45 km of mountain road to Synevyr National Park. Essentially opening up the west entrance to the park to tourists from Lviv, the rebuilt road crosses two mountain passes and over 19 restored bridges. With a cost of $24 million, the project was carried out by Turkey's Onur Construction International. The state highway agency reports that 255 km of roads were rebuilt in Zakarpattia this year, one of the regional leaders for road repair this year.
Parkovy, central Kyiv's largest convention and exhibition center, is now officially owned by Lyubov Efimova, mother of Ukrainian MP Maxim Efimov. Since opening in 2013, Parkovy has become a popular place for conferences. It has 22,000 square meters, a high end restaurant, underground parking and its own diesel power station. In Feb. 2019, the Maxim Yefimov, then an MP with the Petro Poroshenko Bloc, confirmed that that the official owner of the facility was his mother, a US resident. Antimonopoly Committee of Ukraine fine her last week $5,000 for not obtaining permission in advance to own 100% of the complex.
Iran plans to pay €200 million in compensation to families of the 176 victims of the Jan. 8 shootdown of the UIA passenger over Tehran, reports Al-Monitor news site. The money will come from the National Development Fund of Iran, not from the budget of the Iranian Revolutionary Guard Corps. An anti-aircraft unit of the Revolutionary Guards shot down the plane with two land to air missiles.
Betting that vaccines will tame Covid, SkyUp Airlines is planning a summer flight schedule of more than 60 routes from 21 countries. Betting also on the renaissance of Ukraine's regional airports, half of the flights will be from four airports far from its base at Kyiv Boryspil. From Kharkiv, Lviv, Odesa and Zaporizhia, SkyUp will fly to Georgia, Greece, Czech Republic and Italy. From Boyspil and several of the regional airports, SkyUp will fly to: Italy, France, Greece, Czech Republic, Georgia, Spain, Bulgaria, Armenia, Turkey, Israel, Cyprus, Portugal, Poland, Germany, Denmark, Jordan, Sweden, Serbia, the Netherlands and Slovakia.
Editor's Note: For Thanksgiving, an American friend and I went yesterday to the matinee showing of Atlantida, Ukraine's new award-winning movie. Zhovten, my old friend, was scarier than the war movie. The cinema in Kyiv's crowded Podil neighborhood was offering 17 films. But its empty café looked like an Edward Hopper painting. Soda and snack windows were deserted. Our screening, of an English subtitled version, drew seven moviegoers, each wearing a mask. All but couples sat warily in alternate seats. I hope Zhovten, which was rebuilt after a devastating fire, can survive the nuclear cold of this coming winter. This week, Dmytro Derkach, co-owner of Planeta Kino, assessed the prospects of a coronavirus Christmas and said he will probably close the chain and fire 500 employees. With Best Regards, Jim Brooke