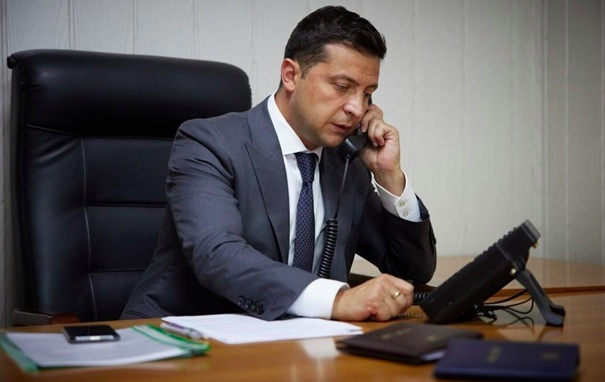 Friday, November 20
Ze Promises to Meet IMF Demands...Big Eurobonds by Christmas?...Reform Face Big Setback At State Arms Conglomerate...Turkey Blocks Russia in the Region...Aid for Roads and Rail Will Cut Isolation of Donbas...US Gives Aid to Protect Shipping in the Azov
The day after speaking with the IMF Managing Director in Washington, President Zelenskiy made a video call to the G-7 ambassadors in Kyiv and promised to deliver on the IMF's checklist. By the end of December, he promises to restore criminal liability for officials who falsify their asset declarations, to keep Artem Sytnyk as head of the Anti-Graft Bureau, and to "resolve issues of the Constitutional Court." The Rada returns on December 1st. It is not clear if the President has the votes to pass the necessary bills. IMF MD Kristalina Georgieva tweeted after her talk with Zelenskiy: "Full agreement on actions needed prior to program review."

The EU is ready to provide €1.2 billion in aid to Ukraine – if Ukraine complies with a list of conditions similar to the IMF's list. Matti Maasikas, head of the EU delegation to Ukraine, tweeted this message yesterday after meeting with Yuriy Aristov, head of the Rada Budget Committee. Maasikas said: "The fiscal challenges facing Ukraine are huge, and the EU is ready to provide macro-financial assistance under well known conditions."
Concorde Capital's Evgeniya Akhtyrko writes of Zelenskiy's Tuesday night call: "The key question: is what was the purpose of the call? Considering that no IMF tranche will emerge in the nearest couple of months, and amid the high financing needs of Ukraine's state budget till the end of 2020, we believe this was a cheer up call for Ukraine's potential external lenders. Namely, we continue to expect the government will try to market a new Eurobond soon."
Western joint production ventures with UkrOboronProm units will not be possible if the new Ministry of Strategic Industries succeeds in stopping reform of the nation's arms industry, the UkrOboronProm's reformist management warned in a public statement yesterday. "The Ministry has been systematically blocking the UkrOboronProm and defense industry reform for three months," UkrOboronProm's management wrote of the new Minister, Olehy Uruskiy, a 30-year veteran of Ukraine's defense industry.
Separately, Mustafa Nayyem, UkrOboronProm's Deputy Director-General, wrote Wednesday on Facebook of what looks like another counter-revolution for Ukraine. Of the takeover by the new Ministry last summer, he wrote: "We agreed in the hope of finding partners and like-minded reformers. Unfortunately, that was not the case. Instead of partnership, we faced systemic protraction in the development of strategic documents, the blocking of our draft bill and the reform as a whole."
This critique was echoed by Canadian-American arms expert Lada Roslycky who wrote  on Wednesday in Vox Ukraine that the new Ministry of Strategic Industries is a "communist construct dating back to Soviet times." With only seven employees, this 'super ministry' seems designed to block reform and exploit lucrative opportunities in a notoriously corrupt industry, critics charge.
While Western companies stay on the sidelines, Turkish arms manufacturers build joint ventures with Ukraine for drones, surface-to-air missile systems, military communications, tank protection systems and corvettes, Can Kasapoglu wrote in The Jamestown Foundation a piece titled: "Turkey and Ukraine Boost Mutual Defense Ties." "Turkish-Ukrainian strategic ties look poised to bring about a new geopolitical reality in the Black Sea region," Kasapoglu writes from Istanbul where he directs defense programs at the EDAM thinktank. Comparing Ukraine's cooperation with Turkey to that of Israel and South Korea, he concludes: "Ukraine stands to become another important partner of this type, but with the additional political-military value of helping Turkey counter-balance Russia in the Black Sea."
Azerbaijan's victory in the 44-day war with Armenia thrusts Turkey into the spotlight as an increasingly muscular regional player, Taras Kuzio, a Kyiv-Mohyla Academy Professor, writing for the Royal United Services Institute for Defence and Security Studies. "Ukraine and Azerbaijan are longstanding pro-NATO and pro-Western former Soviet states in a contested region which Russia demands the West recognises as its exclusive sphere of influence," he writes for the venerable London think tank. "While the Azerbaijani–Turkish alliance has passed an important test of endurance, Turkey's development of a new strategic alliance with Ukraine is in its embryonic days."
UIA will resume flying to Yerevan, Armenia on December 4th. Flights were suspended two months ago because of the war between Armenia and Azerbaijan over Nagorno-Karabakh, about 250 km to the east of Yerevan. On November 10, a Moscow-brokered ceasefire stopped the fighting. Russian military peacekeepers and Turkish military observers are to monitor the ceasefire.
Rebuilding roads in Ukraine-controlled Donbas is the goal of a two new soft loans totaling €155 million, reported the Infrastructure Ministry. The World Bank is lending $65 million as part of its project: 'Eastern Ukraine: Reunification, Restoration and Revival.' The European Investment Bank is lending €100 million also largely for road repair and construction.
To further reduce the isolation of Luhansk and to protect the new roads, the Rada's Transport Committee endorsed the construction of a rail line that would connect a 250 rail line in eastern Luhansk that is cut off from Ukraine's rail system. Largely useless today, line runs south from the Russian border, near Lantrativka to Kondrashevskaya-Novaya and on to Russia-controlled Luhansk. Earlier this year, France offered to finance €100 million worth of railroad construction in Ukraine-controlled Luhansk.
The US is giving $4 million in aid to bolster Ukrainian Sea Guard units in Berdyansk and Mariupol. The US Embassy Twitter feed said: "The new equipment will help the Marine Guard deter and respond to aggression in the Sea of Azov around the clock." The Sea of Azov is a binational body of water. After Russia opened the Kerch Strait Bridge in May 2018, Russian border control forces started stopping and delaying civilian ships going to Ukrainian ports. Last July, Washington approved the sale of up to 16 Mark VI patrol boats to Ukraine. The boats are designed to patrol coastal areas. The Sea Guards are part of Ukraine's Border Control Service.
Through October, Mariupol port has handled 5.1 million tons of cargo, up by almost 10% over the level for the first 10 months of last year. Taking advantage of rail freight incentives to use the port, shippers sent 26% more ferrous metals and 35% more grain, reported the Sea Port.
Editor's Note: Three weeks after the head of the IMF clearly asked President Zelenskiy not to touch the National Bank of Ukraine, he purged the central bank. Now, six month later, the president is back, asking the IMF for help. Bulgarians and Ukrainians know each other. There is not a lot of razzle dazzle the 42-year-old performer from Kryvyi Rih can use to impress the stolid, 67-year-old economist from Sofia. (She may listen on the phone, thinking: 'I'm old enough to be your mother!') With the IMF apparently in no rush to send more Western taxpayers' money to Ukraine, the logjam may last until Joe Biden focuses on Ukraine — and unleashes his long-awaited tough love. With Best Regards, Jim Brooke