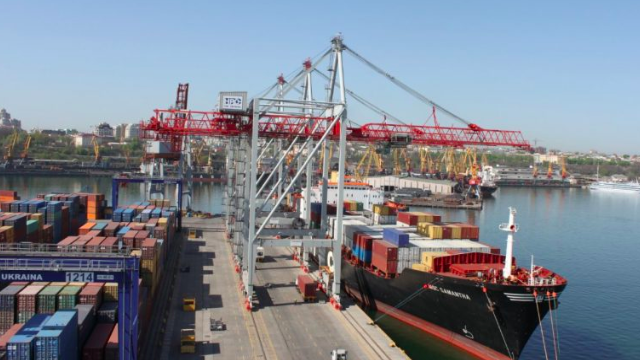 Friday, November 15
GDP Grew 4.2% Last Summer...Port Cargo Jumps 20%...PM Orders Privatization Fire Sale...Green Light for Big Canadian Investment...Rada OK's 2020 Budget and Debt Agency...Hryvnia Debt to Far Outstrip Dollar Debt...Kolomoisky: IMF Deal Breaker?
Ukraine's economy grew by 4.2% this summer y-o-y, indicating that the spring growth rate of 4.6% was not a fluke. The first-quarter GDP growth was 2.5%, according to the State Statistics Service. The National Bank of Ukraine and the Economic Development Ministry recently upgraded their 2019 GDP forecasts to 3.5%. This would be triple the 1.1% forecast EU growth rate for 2019.

Through October, Ukrainian ports handled 20% more cargo than during the same 10 months last year, report the Sea Ports Authority. This is the biggest jump in six years and dwarfs last year's increase of 2%. With bigger ships docking at Ukraine's ports, the number of vessels was up only 2%, to 9,813.
Driving cargo to 130 million tons, grain exports were up 37%, to 44 million tons, and iron ore exports were up 33%, to 30.5 million tons. With dredging work complete at the nation's five largest ports, the growth champions were: Pivdenyi (Yuzhne) +28% to 44 million tons; Mykolaiv + 20% to 27 million tons; Chernomorsk +23% to 21.1 million tons; and Odessa +19% to 20.7 million tons. On the Azov, Mariupol reversed a five-year decline and registered a 5.5% increase in cargo, to 5.3 million tons.
Prime Minister Honcharuk ordered ministries on Thursday to transfer at least 500 state companies to the State Property Fund of Ukraine by the end of December for privatization in 2020. At the same government meeting, Dmitry Sennichenko, the new head of the Fund, said five large privatizations are planned for 2020: Centrenergo, Elektrotyazhmash, Krasnolimanska Coal Company, Odessa Port Plant, President Hotel, and United Mining and Chemical Company, or OGKH. Of 3,643 state enterprises, the government intends to keep only 21%, or 776, said Pavlo Kukhta, deputy minister of economy, trade and agriculture development.
Unblocking Canada's largest investment in Ukraine, Black Iron Inc. agreed with Ukraine's Defense Ministry this week to buy a 12.6 km square parcel of land adjacent to the future iron mine in Kryvyi Rih. The Toronto-based mining company has agreed to pay for the land an undisclosed sum, which will be used to build military housing. In a first $463 million phase, Black Iron plans to produce 4 million tons of iron ore a year.
The Rada gave final approval Thursday to a $49 billion budget for 2020. The deficit will be 2.1% of GDP, within the IMF target. The budget includes a record $3 billion to be spent rebuilding and repairing roads. The government plans to earn $500 million from the sale of state companies in 2020.
The Rada also gave final approval Friday to the establishment of the Debt Agency of Ukraine, the Finance Ministry reports on  Facebook. Borrowing a government debt management model used in many EU countries, the Finance Ministry will set strategic goals only. The Ministry reports: "Acting as a separate central executive body, the Debt Agency will not be dependent on political factors, which is important for enhancing investor confidence and predictability of long-term public debt management processes." Partly due to hryvnia appreciation, the public debt to GDP ratio is officially forecast to drop to 45% in 2020, down from 80% in 2016.
The Finance Ministry plans to sharply raise its hryvnia portion of government debt, from 40% today to 66% by the end of the year, according to figures presented Thursday by Yuriy Butsa, Government Commissioner for Public Debt Management. "We will continue to increase the share of borrowings in national currency," he told a Fitch Ratings conference in Kyiv. Next year, the government plans to borrow $4.9 billion externally and UAH 231 billion internally, currently the equivalent of $9.6 billion. State debt payments due next year are the current equivalent of $11.7 billion.
Energoatom, the operator of Ukraine's four nuclear power stations and source of half of the nation's electricity, is considering issuing Eurobonds for listing on the London Stock Exchange, the company reports. As a first step, the state company plans a legal roundtable on Thursday. Energoatom, officially the National Nuclear Energy Generating Company of Ukraine, has 13.9 gigawatts of installed electricity capacity. Last year, it recorded $180 million in net profit.
Ukraine's macroeconomic indicators look "excellent," Anders Aslund, Atlantic Council economist, told the US-Ukraine Business Council. Inflation is falling toward the 5% a year target, allowing interest rates to fall "sharply" next year.
The big problem, Aslund said, is Igor Kolomoisky, the former co-owner of the PrivatBank who has been lobbying for the return of his nationalized bank. By contrast, the IMF and the G7 countries seek to the recovery of $15 billion that evaporated during the 2014-2015 banking crisis, including $5.5 billion from PrivatBank. "The whole IMF mission is about that," Aslund, who is based in Washington, said of the IMF team that arrived here Wednesday from Washington. "I would expect an IMF agreement, as soon as there is a Kolomoisky agreement. Without a Kolomoisky agreement, no IMF agreement."
Although Ukraine can now raise needed money on international capital markets, that favorable environment depends on an IMF seal of approval that comes with a 3-year Extended Fund Facility. Without that deal, the foreign direct investment will remain low, Aslund said. "I would not invest in Ukraine before the situation is resolved."
On the outcome of growing tension between President Zelenskiy and Kolomoisky, his media backer, Timothy Ash conducted an email survey Thursday of his readers from the financial community. Of three scenarios, 64%, including Ash, predicted a do-nothing path. This was defined as: "Never. According to this view, Zelenskiy is in the pocket of Kolomoisky. Might see some window dressing action against Kolomoisky to pull the wool over the IMF's eyes."
The High Anti-Corruption Court is to decide today's pretrial restrictions for Oleksandr Pysaruk, the former first deputy governor of the National Bank of Ukraine. Currently, Chairman of Raiffeisen Bank Aval, Pysaruk is a suspect in a five-year-old bank bailout case. Pysaruk worked for the IMF until August. His detention coincides with the arrival this week of the IMF team, composed of former work colleagues. Another former central bank official detained in the case, Alla Shulga, had stepped down last week as a member of the Ukreximbank Supervisory Board.
The central bank denies any wrongdoing and is "angered" by the naming of Pysaruk as a suspect. "Together with the first post-revolutionary central bank management team, he was at the forefront of banking sector reform – the reason for Ukraine's currently healthy, transparent and reliable banks," the bank says in a statement. "Mr Pysaruk is a professional banker with an impeccable reputation, which has been praised both by the IMF, where he has worked for the last three years."
From the Editor: With foreign investor interest high in Ukrainian corporate bonds, investors and Ukrainian company executives will gather Dec. 2 in London for the Annual Investment Roadshow. Sponsors include BCP Securities, DTEK, Hillmont Partners, ICU, Moody's Investors Service, and White & Case. For more information, click this link. Best regards Jim Brooke jbrooke@ubn.news.