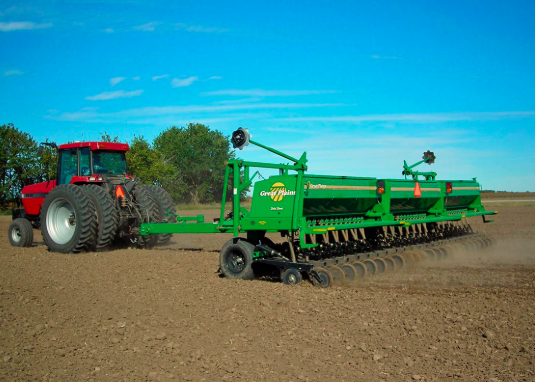 With rain forecast across Ukraine for the next week, farmers are happy. Early spring grain was completed on 2.1 million hectares – 10% more than last year. This is 94% of the planned area, reports the Agrarian Policy and Food Ministry.

Moisture in the soil may put Ukraine on track to match last year's record grain harvest of 70 million tons. In neighboring Russia, similar weather could boost the grain crop by as much as 14%, to 129 million tons, reports Reuters in a story headlined: "Good Weather Puts Russia, Ukraine on Track for Large Grain Crop." Kazakhstan, the region's other big producer, expects to match last year's harvest of 20 million tons.
With two months left in the grain marketing year, farmers have exported 41 million tons – topping the 40 million tons exported during all of the previous marketing year. Ukraine has exported: 23 million tons of corn, 14 million tons of wheat, and 3.3 million tons of wheat. Underlining Ukraine's role as a world food power, total grain exports could hit 50 million tons this year.
Despite farmers complaining about rail tariffs, the amount of grain moved by freight trains increased by 7% during the first quarter, to 28.6 million tons of grain. Over the last decade, Ukrzaliznytsia has doubled its grain volumes, from 15.5 million tons in 2008 to 33 million tons last year, Andrey Ryazantsev, the state railroad's financial director, tells the Center for Transportation Strategies.
Sunflower oil production was up by 14%, to 1.5 million tons, during the first quarter, compared to last year's in January-March period. In March alone, sunflower oil production jumped to 23% y-o-y, to 527,000 tons, reports that State Statistics Service. Ukraine is the world's largest exporter, with India the top buyer of the cooking oil. In 2018, production dropped by 8% y-o-y, to 4.8 million tons.
Kernel, Ukraine's largest sunflower oil producer, saw its oil sales jump by 40%, to 389,600 tons in the first quarter, compared to January-March last year. Behind the jump, Kernel's numbers underline Ukraine's slow progress in creating a sunflower oil brand and selling oil in bottles– a higher value export. Kernel's bulk sales were 11 times greater than its bottle sales – 32,000 tons. During the first quarter, bulk sales grew by 41%. Bottle sales lagged, growing by 30%.
Low sugar prices and rising production costs are prompting sugar producers to cut plantings of sugar beets this spring by about one quarter, to 210,000 hectares, the lowest level in five years, reports Ukrtsukor, the sugar producer association. During the first half of the sugar marketing year, sugar exports were down by 10% to 304,000 tons, the association reports. During the last sugar refining season, sugar production was down by 15% to 1.7 million tons.
At Astarta, Ukraine's largest sugar producer, sugar sales dropped by 42% y-o-y during the first quarter. Sugar prices were down by 15%. By shifting land last year to corn, wheat, barley and sunflower, Astarta's revenue increased by about 21% to to €110 million, calculates Concorde Capital analyst Alexander Paraschiy.
Ukraine's fruits and nuts export revenues rose by 22%, to $25 million, during the first two months of this year, compared to January-Febuary period of last year. February's exports of $25 million were double the level of two years ago, according to EastFruit information and analytical platform.
Pig Progress news site reports that Danish and German companies are planning to launch pig farms in Ukraine, despite outbreaks of African swine flu. The site's 'World of Pigs' feature reports that Danish company Agro East is building a farm in Zhytomyr with a capacity for 25,000 pigs. In Lviv region, two farms, for a total of 10,000 pigs, are planned by German pig producers Poels Mastschweine and Tierproduktion Alkersleben. In Ivano-Frankivsk region, Goodvalley Ukraine, another Danish company, plans to invest €4 million to build a meat processing plant.
Two new cases of African swine fever – one in Ternopil and one in Chernivtsi – were reported Thursday by the State Service for Food Safety and Consumer Protection. Since 2015, about 400 outbreaks involving dozens of farm have been reported. Last year, 145 cases reported in Ukraine of the virus which is fatal to pigs. If infections continue to spread, Ukraine will lose 1.2 million pigs, or $150 million, by 2020, predicts the Food Safety agency.
Poultry meat exports are up by 38% q-o-q, to 103,000 tons for $147 million, reports the Ukrainian Food Export Board. The top buyers during the first quarter were: Saudi Arabia – 27% or $40 million; the Netherlands – 16.5% or $24.3 million and Slovakia – 10% or $14 million. Last year, Ukraine exported 330,00 tons making it the seventh largest poultry meat exporter in the world.
After spending almost $250 million to buy a poultry producer in Slovenia, MHP, Ukraine's largest poultry producer, plans to continue to buy producers in the EU and to expand to the Middle East and Africa, according to a statement posted on the Warsaw Stock Exchange website. At home, MHP is investing to increase its production capacity in Vinnytsia by one third, to 840,000 tons in 2022. Between now and 2022, MHP plans to spend $420 on foreign purchases and increasing domestic production.
With little room for sales growth at home, MHP plans to expand exports this year by 15%, to 330,000 tons, Victoria Kapelyushnaya, MHP chief financial officer, tells GlobalMeatNews. During the first quarter, poultry volume sales totaled 164,000, up 21% y-o-y. Exports were 93,000 up 47% y-o-y to 57% of total sales. Concorde Capital's Andriy Perederey writes: "The company's key EBITDA driver in 2019 will be a rise in poultry export volumes."
Ovostar Union, a top manufacturer of eggs and egg products in Ukraine, opened a subsidiary in Dubai and spent $3.3 million to buy two Kyiv region companies last year, the group reported in its annual financial report. Last year, sales destinations were: Ukraine – 55%; Middle East – 26%, EU – 16%, and other countries – 3%. Last year, export revenue increased by 17% to $56 million.
This year, Ovostar, plans to increase laying hens by 13%, to 7.9 million head, and to increase egg production by 14%, or 1.8 billion eggs. List as OVO on the Warsaw Stock Exchange, Ovostars reports are scrutinised closely by analysts in Kyiv. Calculating that the company first quarter revenue was $30 million, or a 9% y-o-y decrease, Concorde Capital's Androy Perederey writes: "We are keeping our neutral view on Ovostar stock."
A Norwegian company partly owned by the Norwegian government sold its 3,000-hectare farm in Sumy region last week for an undisclosed price. "The results of the investment were impressive; now we are looking forward to additional opportunities to invest in Ukraine," said Hans Christian Dall Nygard, regional advisor to Norways State Investment Fund, an investor in the farm. Andrew Kinsel, an American lawyer who advised on the deal, said: "Farm property sale is common, land rental agreements are signed with a corporate entity, and the corporate entity is sold. Land itself is (usually) not sold, only rental agreements." Even without a private farm land market, he said: "There is strong demand in the farming sector. I see that buyers are quite active through the planting and elections season."
The Ukrainian Agro-Industrial & Food Forum, the largest such conference outside of Ukraine, will take place May 28 in Rotterdam. Expected to draw executives from 150 agribusiness companies, the forum unites two of the world's leading exporters and innovators of agri-food products – the Netherlands and Ukraine. Now in its second year, the forum will focus on trade, logistics and infrastructure, financing, ag tech, export markets, trade and investment, and promotion of the value chain.