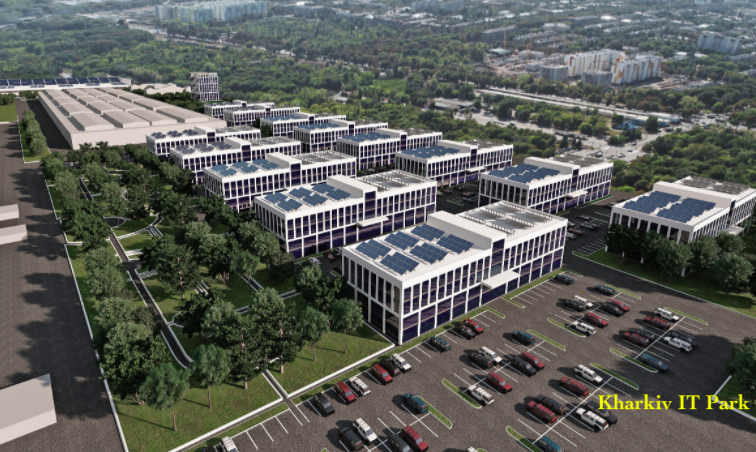 China's ZTE Corporation, a major telecom equipment manufacturer, signed an agreement yesterday to become the first tenant of Ecopolis KhTZ, the industrial and technology park Alexander Yaroslavsky is developing in part of his Kharkiv Tractor Plant. Speaking by video link from ZTE headquarters in Shenzhen, Vice President Xue Bin said the project "is in tune with the main tasks of ZTE in Ukraine and in the global market." He did not outline ZTE's investment plans. With revenue last year of $12.5 billion, ZTE is major manufacturer of 5G telecommunications systems and smartphones. On the R&D side, the company has been one of the top five global leaders for patent applications over the last decade.

Nova Poshta Global made a test shipment by truck last week of AliExpress parcels from Ürümqi, western China to Kyiv. Carrying 7,467 parcels, the truck took eight days to make the 6,000 km drive, traveling via Warsaw. Working with Nova Poshta and Ukrposhta, the state post office, AliExpress sent more than 20 million parcels to Ukraine last year, making it one of the top 10 markets in the world for the China-based online retail service.
With the world awash in oil, Azerbaijan's Socar would like to store oil in Ukraine for one year, or as long as it takes for prices to revive, says Nikolay Gavrilenko, head of Naftogaz's oil division. To do this, Ukraine's Finance Ministry has to create a duty free customs warehouse regime, similar to the one used by gas traders in western Ukraine. Gavrilenko calculates that 2.7 million barrels could be stored in an unused pipeline that runs east from Poltava's Kremenchuk refinery to Lysychans'k, Luhansk. In addition, 1.2 million barrels could be stored at Ukrtransnafta's tank farm at Pivdennii, Ukraine's deepest and busiest Black Sea port.
If Gazprom uses its own pipelaying ship to complete the final 10% of Nord Stream 2, the Russian gas company will face US sanctions, US Senator Ted Cruz tells journalist Diane Francis in an Atlantic Council blog. "If Gazprom uses the Akademik Cherskiy to finish the Nord Stream 2 pipeline, the US President must and will impose sanctions on Gazprom," says Cruz, a Texas Republican who was reelected to the Senate last November. "Their officers would lose their ability to come to the US and all of their assets would be blocked, and that's just for starters." Francis writes: "Gazprom's principal shareholders and corporate officers would be denied entry into the United States…Gazprom would lose access to any property in the United States."
Olena Zerkal, a former deputy foreign minister, will take over from Yuriy Vitrenko prime responsibility for Naftogaz' litigation against Russia, reports the state energy company. Zerkal has five years experience negotiating gas transit deals with Gazprom and lobbying the EU against Nord Stream 2. Vitrenko was fired this week. He attributes this in part to his plans to sue Gazprom for up to $17 billion.
Poland's state gas company PGNiG is in talks with Gazprom for a refund of $1.5 billion in overpayments to Russia, company chairman Jerzy Kwiecinski tells Tvp.info. The refund would comply with a March 30 Stockholm Arbitration decision, he says. Separately, Reuters reports from Moscow that Gazprom's gas exports to Europe and Turkey fell by 19% in the first quarter y-o-y. Russia's state gas export monopoly is believed to be losing money for first time in its 31 year history.
After a 1-year suspension, the EU now is prepared to disburse a €500 million aid tranche, Olivér Várhelyi, EU Commissioner for Neighborhood and Enlargement told Ukrainian Foreign Minister Dmytro Kuleba yesterday, the ministry reports. Originally scheduled for disbursement in spring 2019, the aid was held up pending Ukraine reaching a deal with the IMF. With the Rada's approval of the 'anti-Kolomoisky bill,' "Ukraine has fulfilled all the conditions for the allocation of further macro-financial assistance to the EU," the Commissioner reportedly said.
With the IMF deal on track, one discordant voice popped up last night: Mikheil Saakashvili, Zelenskiy's new reform advisor. Speaking on Ihor Kolomoisky's 1+1 TV, he complained of the IMF: "They give us exactly as much money so that we simply pay off our external debts. And because of this, we are forced to bow constantly. I refused the IMF services in Georgia one time. I think Ukraine is strong enough to refuse this."
In time for weekend shopping, the Cabinet of Ministers decided yesterday to allow non-food stores to reopen, effective today. The government website says: "Non-food markets will operate subject to sanitary and epidemiological safety measures on the principle of operation of food stores."  Separately, IKEA opened its online furniture and household goods store, capping 15-year effort by the Swedish-founded company to enter Ukraine.
With Kyiv suffering the worst traffic jams in recent memory, Health Minister Maxim Stepanov authorizes re-opening the city's Metro system on Monday May 25 – if the city follows strict sanitary procedures.  Responding to Mayor Klitchko's appeal for transit relief, Stepanov's office said: "The Ministry of Health gives permission – if all epidemiological indicators allow this and all the criteria for this mitigation phase are met." Responsible for half of the city's mass transit, the Metro carries about 1.5 million riders every weekday. Massive traffic jams started Tuesday morning as residents of this city of 3.7 million returned to work after the 10-day May holidays and the easing of the quarantine.
Over the last two months, Kyiv City has recorded 42 deaths out of 2,012 cases, or a death rate of 2.1%. Nationwide, the toll is 456 dead out of 16,847 laboratory confirmed cases, or a death rate of 2.7%. Indicating that the virus strain here may be milder here than in parts of Western Europe, about two thirds of Ukraine's known cases are treated at home under medical supervision. Of the 16,847 cases, 7% are children and 20% are medical workers. In a sign the pandemic may be easing, yesterday, for the first time, Ukraine's Health Ministry reported more Covid-19 recoveries, 427, than new cases, 422.
AirBaltic resumes flights this Monday from Riga, Vilnius and Talinn. The Latvian carrier will fly directly to 14 destinations: Amsterdam, Stockholm, Brussels, Paris, Copenhagen, Frankfurt, Hamburg, Helsinki, London, Munich, Oslo, Tallinn, Vilnius and Moscow. In June, it plans to resume flights to Kyiv Boryspil and 14 other European cities.
Ukraine's domestic and international air traffic should resume simultaneously because of the hub and spoke models of UIA and SkyUp, Infrastructure Minister Vladyslav Krikliy said yesterday after meeting with airline heads. "We had a great meeting with national airlines," Krikliy said on 'Breakfast with 1+1.' Later, on his Telegram channel, he promised: "We will work with air carriers and the Foreign Affairs Ministry to determine the countries from which the resumption of international flights will begin." He did not predict when flights will resume.
Ukraine's air traffic control agency will run out of money in two weeks, the agency, UkSATSE, warns on its Telegram channel. With air traffic and overflights down 90% since mid-March, the agency will need a $37 million loan or budgetary grant to get through the year. Last year, the controllers handled 335,400 flights, an 11.5% increase over 2018. After a normal January and February, air passenger traffic through Ukrainian airports ended up dropping  35.5% y-o-y for the first four months, to 4 million people.
From the Editor: It is interesting how often government officials are politically tone deaf. Two months after closing all of Ukraine's airports, the Infrastructure Minister finally found time Wednesday to meet with airline directors. Last year, 20.5 million people traveled through Ukraine's airports. One could estimate that UIA and SkyUp have the email addresses and cellphones numbers for half of Ukraine's 37 million people — arguably the most affluent and politically active half. As the summer travel season approaches with no timetable for re-starting air service, the government is lucky the airlines are playing nice.  With Best Regards Jim Brooke jbrooke@ubn.news