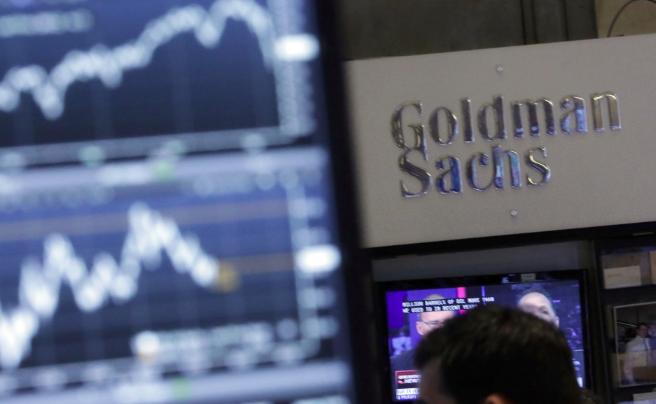 Foreign participation in Ukrainian local debt auctions could increase up to 25 times, according to a new Goldman Sachs analysis of the impact of the opening this spring of a Clearstream link to the National Bank of Ukraine. This link will allow non-resident traders, based in London, Frankfurt or New York, to buy and sell hryvnia bonds from their desks. Goldman forecasts this could raise up to $6 billion in capital for Ukraine, as foreign participation rises from 1.3% today toward  Russia's recent peak of 34%.

Linking to this international, Luxembourg-based securities depository will help Ukraine climb its "debt mountain." With $20 billion in reserves today, Ukraine must pay back nearly $15 billion in debt obligations this year, and an additional $21 billion in 2020 and 2021.
Gazprom Export has told Bulgaria it plans to stop sending gas through Ukraine to Bulgaria next January, Bulgaria's Energy Minister, Temenuzhki Petkova, tells bTV, Bulgaria's largest TV station. To replace the 30-year-old Ukraine pipeline route, Bulgaria, which depends on Russia for two thirds of its gas, plans to build this year a 484 km pipeline from the Turkish border through Bulgaria to Serbia. This new 'Balkan Gas Hub' would transport gas from Russia's TurkStream and from Romania's offshore fields. Gazprom has told Bulgartransgaz to raise the $1.6 billion to build the pipeline. In retort, Petkova threatens to sue Gazprom for $110 million in annual transit fees that Bulgaria should receive under its Ukraine transit contract, valid until 2030.
Shanghai-listed LONGi Solar was the largest Chinese photovoltaic module supplier to Ukraine last year, the company reports, citing export data from China Customs. LONGi exported 285 MW of the assemblies of solar cells, accounting for 17% of the 1.7 GW exported from China to Ukraine. The largest of 80 Chinese companies supplying Ukraine's solar market, the Xi'an-based company says: "LONGi Solar has placed great importance on the Ukrainian market…very rich in solar energy and suitable for the construction of PV power stations."
Three months after a Chinese Skywell electric bus started plying a 17-km route on Kyiv's Left Bank, Skywell sent the same model bus to Poltava for testing. With a range of 300 km from a single charge, the bus can carry 50 passengers. Charging takes up to 90 minutes and can be done at night, when electricity rates are cheaper, Arseny Abduraimov, Skywell's representative in Ukraine, tells Zmist news site. Last fall, the Nanjing-based bus manufacturer also sent an electric bus to Vinnytsia for testing.
Shanghai Aowei Technology Development Co. is talking with Chernihiv Automobile Plant, a bus manufacturer, about producing electric buses at its factory. Aowei points out that it is assembling buses in neighboring Belarus and that a fleet of Aowei electric buses now carries passengers in Minsk.
The electric transit vogue spreads to Odessa, as City Council adopts a 3-year, $134 million plan to buy 14 electric buses and 67 new trams, reports the Center for Transportation Technologies. Now in talks to win financing from the European Investment Bank, Odessa hopes to spend $30 million this year, partially on Škoda electric buses from the Czech Republic.
China expects as many as 2,000 Ukrainian buyers and exhibitors at the upcoming Canton Fair in Guangdong Province, Xu Bing, deputy director general of China Foreign Trade Center, the organizer, tells Xinhua. Xu was in Kyiv Wednesday for an event attended by 200 people to promote the April 15-May 5 fair. "China and Ukraine are important trading partners," Xu told China's news agency. "Ukrainian companies are a very important part of the upcoming Canton Fair." Agriculture, IT, and tourism are three export sectors to be on display at the fair, says Yaroslav Sydorovych, a presidential advisor. Foreign trade experts predict that in the 2020s China will displace Russia as Ukraine's largest single nation trading partner.
Matteo Patrone, the new regional head of EBRD, the largest investor in Ukraine, says: "Clearly the message from our Board is: invest more in Ukraine." Despite that marching order, he said that only 40% of the bank's currently approved €3.6 billion portfolio is being deployed. Speaking at a US-Ukraine Business Council meeting, he confirmed a six-month-old EBRD halt to new investment in solar projects, pending the Rada's passage of an auction bill for renewable energy. Saying "small privatization is working well, he added: "Big privatization is a total disaster." He said "the oil and gas sector could be a good candidate" for privatization. On Mariupol-Berdyansk infrastructure in the Azov, he cautioned that the EBRD can only deal with investment-ready projects.
Kharkiv airport, serving Ukraine's second largest city, joins the big leagues this spring with new flights to Azerbaijan. Cyprus, Georgia, Italy, Spain, and United Arab Emirates. The expansion of Eastern Ukraine's biggest airport is part of a drive to increase passenger flow this year by one quarter, to 1.2 million.
To Italy, Ernest Airlines started direct flights last week from Kharkiv to Rome and Milan Malpensa. Shadi El Tannir, business development director for the Italian-Albanian airline, said Airbus A320s are flying the two routes. He also said the company's routes from Kyiv Sikorsky to six Italian cities are running at 80% capacity. His forecast for Kharkiv passengers is: 40% tourists, 30% Ukrainians living and working in Italy, 20% business travelers and 10% Kharkiv area residents transferring to flights to the US and Canada.
Virtually overnight, SkyUp will become Kharkiv airport's busiest airline, launching direct, scheduled flights between May 25 to June 7 from Kharkiv to six new destinations: Barcelona, Odessa, Kutaisi (Georgia), Lanarca (Cyprus), Rimini (Italy) and Sharjah (UAE). In May, Buta Airways starts flights to Baku. In September, Wizz Air adds a sixth EU city — Krakow.
Also overnight, Ukraine-based SkyUp becomes the airline offering the most destinations from Odessa – seven. From May 17 to June 4, SkyUp launches direct scheduled flights from Odessa to Barcelona, Kharkiv, Kyiv Boryspil, Kutaisi, Lviv, Rimini and Yerevan. With operating bases in Kharkiv, Kyiv Boryspil and Odessa, the one-year-old airline has a fleet of five Boeing 737s, which it plans to expand to 18 planes by 2022.
Completing expansion plans, SkyUp plans to start service from Kyiv Boryspil, from April 26 to June 2, to seven cities: Barcelona, Batumi, Lanarca, Naples, Odesa, Tbilisi and Yerevan. From regional airports, SkyUp launches service on May 25 from Zaporizhia to Barcelona. Also, the airline plans to start flights this year from Cherkasy, reports the Center for Transportation Technologies.
After starting service last week from Kyiv to Uzhgorod, Motor Sich is in talks to start direct service from Kyiv to Mykolaiv. After opening a refurbished terminal in December, Mykolaiv handled 3,000 passengers in January-February. The target for the early 2020s is 200,000 passengers a year.