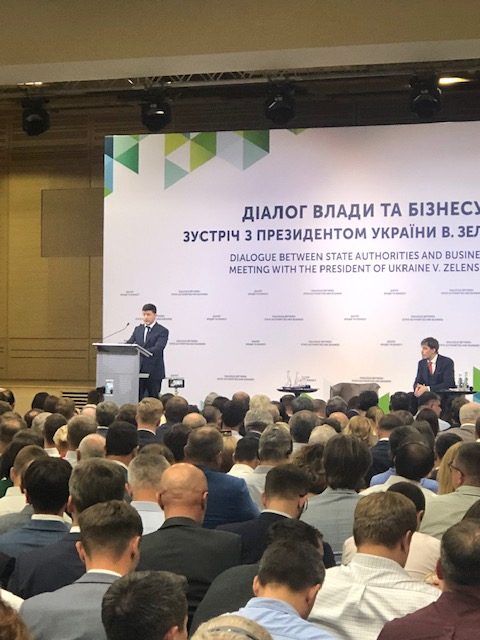 In President Zelenskyy's first substantive meetings with business leaders, the new president came across Thursday as a pro-business libertarian — determined to privatize, to cut red tape, and to lead Ukraine in the 2020s from a 'poor country to a middle-income country' during his five-year term.

Here are highlights:
Hailing the central bank's decision this week to end mandatory sales of foreign exchange earning for hyrvnia, he said: "The National Bank of Ukraine must be thanked for this and more. Thank you. I am sure that this is the result of its independence. I will respect and protect it."
Saying that Ukraine pays 30% of the budget to service its debt, paying "crazy interest," he said the way out is to "continue cooperation with the International Monetary Fund, so that for the next five years, it will be possible to significantly reduce and reduce the debt burden on the country." He vowed to raise Ukraine's sovereign debt. Since November 2016, Fitch has given Ukraine a B- rating.
"There will be no default," he said, addressing a worry from the start of his one-month-old presidency. He then repeated the phrase three times.
Zelenskyy promised to give new energy to Ukraine's flagging deregulation drive. At the start of the meeting with business groups, he announced he had canceled 161 decrees made by past president. These including setting minimum prices for notaries and stipulating that school uniforms be made of Ukrainian cloth. Addressing 'Soviet-era laws,' he promised a market for farmland and a liberalized casino regime.
"Here, there should be a line of investors," he said. "I am convinced that within 3-4 l. years Ukraine can enter the TOP-10 ranking of the World Bank, Doing Business." From a position at the bottom of this international list, in position 150 in 2011, Ukraine is now in the middle, ranking 71.
Addressing the 3,000 state companies left over from the Soviet era, Zelensky said: "Ukraine as a state needs to get rid of non-core . Therefore, I support large-scale privatization. The state is a service that creates the conditions for your work, not your competitor."
On the Donbas, he called for $10 billion public and private investment into roads and jobs in areas near the war zone. This would make government-controlled Ukraine an attractive alternative to separatist areas. He said: "We must demonstrate to the people who are forced to stay in temporarily occupied territories the advantages of living in a decent, free and independent Ukraine."
To reverse capital flight, he promised: "We will hold a tax amnesty on preferential terms. We are well aware that very often Ukrainian businesses withdrawn money from the country, not for  good living, but because of corruption pressure and a normal desire to protect their assets."
"Our short-term priority is the fight against smuggling and raiding," he said, responding to a question. "I believe that in the coming months you will see a tangible difference, and next year these phenomena will no longer be systemic."
Raiding by security forces will stop, he promised. "I also support the demilitarization of the tax service and the creation of the State Financial Intelligence Service with an emphasis on analytical work," he said. The Service [SBU] must fight spies and saboteurs — and not engage in business."
On energy, Zelenskyy said the Antimonopoly Committee and the energy regulator should become truly independent. "Over the next five years, we will do everything necessary to become truly energy independent," he said. "We will unite our power grids with European ones."
Early parliamentary elections will take place as planned on July 21. The Constitutional Court rejected an appeal by 62 MPs and ruled Thursday that President Zelensky's decision to dissolve Rada was constitutional. According to several polls, the new president will win enough seats to form a governing coalition. The latest poll, published on Wednesday by the Rating Group, indicates these preferences: Zelensky's Servant of the People party – 47%; the pro-Russian Opposition Platform – For Life party – 11%; the Voice party of rockstar Sviatoslav Vakarchuk – 8%; former Prime Minister Yulia Tymoshenko's Fatherland party — 7.3%; and former President Petro Poroshenko's European Solidarity – 5%.
With 4,000 IT companies, Ukraine is now the top destination in Europe for IT outsourcing, Taras Kytsmey, president of SoftServe and president of the IT Ukraine Association, told the business meeting. He forecast that today's level of IT exports — $4.5 billion — will more than double, hitting $10 billion in 2023.
"Investors Dodge Global Worries in Currencies of Egypt, Ukraine"
headlines The Wall Street Journal. Noting that the hryvnia has appreciated this year against the dollar by 5%, reporter Ira Iosebashvili writes from Moscow: "Both Egypt and Ukraine also offer double-digit yields on their local currency debt, compared with just above 2% on the U.S. 10-year Treasury note and below zero on many Japanese and European fixed-income investments." He writes of Ukraine: "Investors are betting that a new presidential administration will continue reforms and fight corruption."
With Naftogaz and Ukrainian Railways expected to launch their own Eurobonds in coming weeks, analysts are studying who bought Ukraine's €1 billion sovereign Eurobond last week. According to the Finance Ministry, investor origins were: UK – 32%; US – 27%; Germany – 17%; other EU –13%; Switzerland – 7%; and Asia – 4%. Funds that manage assets, pensions and insurance accounted for 85%. Hedge funds bought 10%; sovereign wealth funds 3%, and banks and individuals – 2%.
Despite the threat that Russian gas will stop flowing through Ukraine next winter, natural gas price futures for January in the Netherlands, Europe's biggest market, have dropped more than 20% in the past six months, Bloomberg reports in an article titled, Fears of Winter Gas Supply Crunch Ease in Europe.
Markets are calm due to growing LNG supplies, pipeline alternatives to Ukraine and the realization in Russia that the EU is serious about promoting renewables and cutting fossil fuels. "Finally, people in Gazprom are starting to realize that renewables are a tangible threat for the gas business and the political decisions currently being made in Europe are serious," says Sergey Kapitonov, a gas analyst at the Energy Center of the Moscow School of Management Skolkovo.
On Saturday, Nibulon's tour boats start taking tourists from Mykolaiv down the Southern Bug and across the Dnipro Gulf to Kinburn Spit, a remote peninsula featuring a 122 square km national park with sandy beaches and wetlands rich in bird life. In the five years since the loss of Crimea, Nibulon, a commercial grain shipper, has turned river and coastal cruises into a flourishing summer sideline business. The boat trip from Mykolaiv to Nibulon's private pier on Kinburn Spit takes two hours and costs $9.
 Note from the Editor: UBN is looking for long-term partners interested in placing their brand in front of our investor audience around the world. If you want to learn more about how to link your company to new you can use from Europe's next frontier market, feel free to contact me Jim Brooke, at jbrooke@ubn.news.