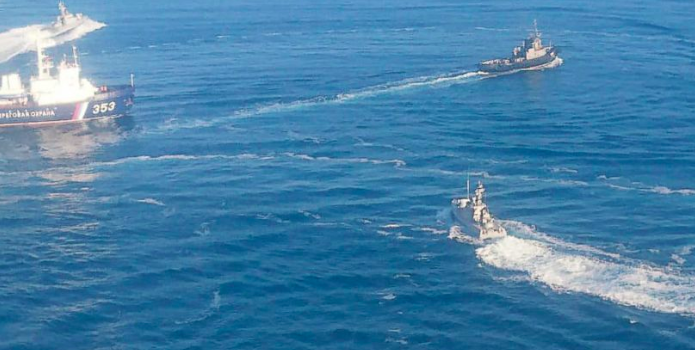 In a tit for tat, Russia and Ukraine took each other's ships hostage over the last 48 hours. On Wednesday, in the Sea of Azov, Russian officials stopped the Lizori, a vessel homeported in Mariupol. On the pretext that the 14-man crew was owed $11,230 in back wages, Russian authorities detained the vessel in the port of Yeysk and deported the crew back to Ukraine.

On Thursday, at the mouth of the Danube river, 500 km to the west, agents of Ukraine's state security service, or SBU, detained a Russian oil tanker, the Nika Spirit in Izmail, an Odesa region river. SBU agents said the ship's International Maritime Organization identification number matched that of the Neyma.
Last November, the Neyma blocked the Kerch Strait under Russia's new bridge, setting up three Ukrainian navy boats for an armed attack resulting in the capture of 24 Ukrainian Navy sailors. A representative of the Russian shipowner, Altomar Shipping, told Russian media that the company bought the ship last winter, after the attack. In the Izmail case, the crew was also returned, but the ship was impounded.
The ship seizures come as détente seemed to be in the cards for Russia-Ukraine relations. After President Zelenskiy's overwhelming victory in Sunday's parliamentary elections, the Kremlin signaled it would talk with Ukraine's new leader. If the naval standoff is contained, there will be a minimal economic impact. As the boat drama unfolded on Thursday, President Trump and President Zelenskiy talked by telephone. Trump congratulated Zelenskiy on his party's electoral victory, Zelenskiy's office said. It is not clear who initiated the call.
Preparing for a potential cutoff of Russian gas on Jan. 1, Ukraine is negotiating the supply of Qatari gas to Greece's sole LNG landing terminal. This gas would get to Ukraine via Bulgaria and Romania, on the Trans-Balkan pipeline. Earlier this year, Qatargas delivered the first load of gas to Greece's newly modernized and expanded terminal, Revithoussa, near Athens. "We are working to ensure that gas supplies to Ukraine from the southern direction via the Trans-Balkan gas pipeline could be made already from January," says Sergiy Makogon, director of Ukrtransgaz. For safety reasons, Turkey does not allow LNG tankers to pass through the Bosporus, which cuts through the center of Istanbul.
After Tuesday's auction, foreigners now own 9% of Ukraine's government hryvnia bonds, up from 1% at the start of the year. These foreign holdings are the equivalent of $2.8 billion.
As of Monday, Ukrainian exporters had fulfilled 2019 duty-free quotas for exporting nine food products to the EU: apple juice, butter, corn, cereals, flour, grape juice, honey, starch and wheat. This time last year, Ukraine had used up seven of its quotas. During the first five months of this year, Ukraine's food exports to the EU rose 37% y-o-y, hitting €3.1 billion. With Britain's new Prime Minister Boris Johnson promising Brexit by October, a working group is studying a UK-Ukraine free trade pact. Ukraine is Europe's largest food exporter. Britain is Europe's largest food importer.
Japan and Saudi Arabia have approved the import of raw milk and dairy products from Ukraine, reports Ukraine's State Service for Food Safety and Consumer Protection. Although the national dairy herd is gradually declining, Ukraine ranks third in the world for exports of casein, or milk protein, fifth for butter, and eighth for dried milk.
Europe's hot weather this summer is expected lower water levels on the Danube, cutting cargo and passengers to Izmail. Last year, the port handled 5% less cargo than the forecast 4.7 million tons due to late summer limits on shipping in the middle and upper Danube. After the Danube hit record low levels in August, Budapest lost €300,000 due to reduced cargo handling. Lower water levels also could cut Danube cruise ship traffic, just after Izmail inaugurated a $2 million, EU-standard river passenger terminal. Based in Izmail, the Ukrainian Danube Shipping Company has four cruise ships plying the river this summer, with several going the full 1,000 km "Alps to the Black Sea" route.
Russia is building a $9.3 billion stretch of China's 'New Silk Highway' designed to run 2,000 km from Kazakhstan across Russia to Belarus, cutting out Ukraine. Built with private Russian money, this Russian toll road is to become the main truck route between China and Europe. When completed, the 'Meridian Highway' is to allow trucks to travel between China and Europe in 11 days, as opposed to 15 days by rail, and 30-50 days by sea, Wade Shepard writes in Forbes. But as configured the road "adds to a series of Russia-led transport projects that limit Ukraine's connectivity with the east," Jonathan Hillman of the Center for Strategic and International Studies tells Forbes.
Landlocked Belarus is working to win an outlet to the Black Sea by restoring north-south river waterways that date back to the Vikings. On the Pripyat River in May, Ukraine and Belarus surveyed navigation depths, calculated dredging work, and studied radioactivity contamination of river sediments from Mazur through the Chernobyl Exclusion Zone, Raivis Veckagans, CEO of Ukraine's Sea Ports Authority, tells Interfax-Ukraine.
On the Dnipro, Belarus has drawn up plans to build its first international port — at Nizhniya Zhary, Gomel region. Near Ukraine's Chernihiv region, this complex would include a 109-hectare port, a 250-hectare marina/yacht club, and a multimodal hub for highway trucks and containers. To open passage for large riverboats, dredging will have to be done on parts of the 103 km between Belarus and locks on Kyiv's hydroelectric dam. The EBRD supports the study work.
To soften the economic impact of Russia's ban on flights to Georgia, Tbilisi is drawing up a plan to pay airlines up to €90 for each passenger brought to Tbilisi or Batumi through Yerevan, Armenia. In the three weeks since Russia stopped flights between the two countries, Russian tourism has dropped by 20%. Although cross border car traffic is unaffected, tourists who arrive by plane, spend more. Georgian authorities expect to pay two airlines a total of €1.2 million for the one-year subsidy program, reports Russian Railways Partner. The flight from Yerevan to Tbilisi takes 30 minutes.
Editor's Note: Were you forwarded this email? Sign up for your own daily delivery at www.ubn.news/subscribe. Ukraine Business News is sent as an email every weekday morning before 6:00 a.m. Kyiv time. Tell your friends! Best regards Jim Brooke – jbrooke@ubn.news