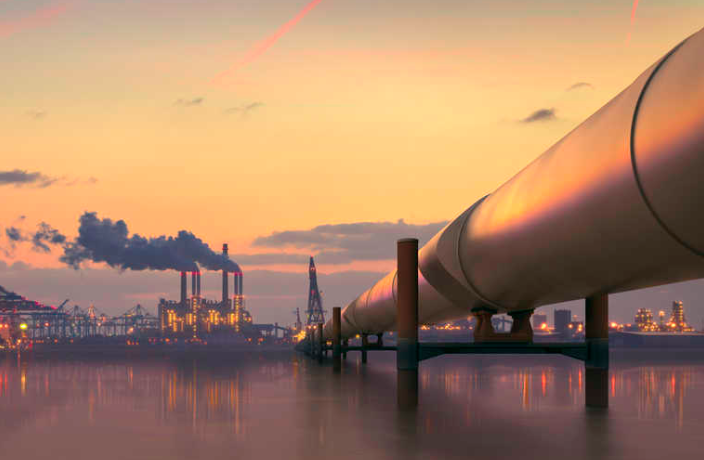 Plans for LNG terminals proliferate on the coasts of Central Europe, competing with Russia's $10 billion Nord Stream 2 gas pipeline, which is crossing the Baltic Sea. LNG landing terminals open opportunities for US and Persian Gulf gas to compete with Russian pipeline gas. Now the world's largest gas producer, US has started selling gas in Europe.

Bending to US pressure, German officials announced Tuesday they will build at least two LNG landing terminals on its Baltic Coast. After talks in Berlin, US Deputy Energy Secretary Dan Brouillette said the US is "very excited" by the decision. But he also warned that "all companies" involved in the Nord Stream 2 project "remain at risk of US sanctions." Last fall, Angela Merkel's government said Germany would build a €500 million terminal, at an unspecified time.
Further east, Polish gas giant PGNiG has signed deals with two U.S. LNG companies to buy up to 2 million tons of US LNG a year for 20 years, starting in 2022. The gas will land at Świnoujście, Poland's new Baltic terminal designed to connect with pipelines to Croatia on the Adriatic.
In Lithuania, Foreign Minister, Linas Linkevičius, fresh from a visit to Washington, said Tuesday his country's 'Independence' LNG landing terminal in Klaipėda could serve as a port of entry for US gas to Eastern Europe. He said: "We can be in a certain sense a gate, not only in our region but also in the whole of Europe, which will open up new distances and opportunities for the US to be a serious player in Europe, in the gas market."
In the Adriatic, Croatia recently approved building a €237 million LNG landing terminal and regasification plant on Krk, an island in northern Croatia. Golar LNG, a Bermuda-based LNG shipping company, is to deliver the completed project by the end of next year. With Hungary concerned about an eventual cut off of Russian gas supplies through Ukraine, János Áder, Hungary's president, said recently in Lithuania about the Croatia project: "This way, we could buy gas in the north — or in the south."
Looking beyond Russia's pipeline gas, the Financial Times' Lex writes Wednesday: "Europe could source even cheaper liquefied gas from other sources." The FT calculates that LNG from Qatar and Nigeria could be 20% cheaper than Russian gas. It takes an LNG tanker about four days to go from Qatar to Croatia.
While Russian gas transit through Ukraine fell by 7% last year, it spiked up 26% year-on-year in January, to 7.6 billion cubic meters. Today, about one third of Russia's gas exports to Europe cross Ukraine. Russian officials say they will not need Ukraine's gas pipelines in the 2020s. But recent years show they needed Ukraine as a back up when the Nord Stream pipeline had problems. Russia's 10-year gas transit contract with Ukraine expires at the end of this year. Russian officials say they will renegotiate seriously only after they know who will be Ukraine's next president.
Explaining last week's firing of the head of Ukraine's state gas production company, Prime Minister Groysman tells the Cabinet that he is "extremely dissatisfied" that UkrGazVdobuvannya "actually failed" to meet gas production targets for 2020. In his defense, Oleg Prokhorenko, the fired CEO, says regional governments rejected licenses for new fields. He says the production company applied for new licenses 170 times in 2016-2018, but received only 17 permits, far below the 15-20 a year stipulated in the government's production strategy. He said Poltava rejected all 60 applications.
China's Xinjiang Beiken Energy Engineering Co., a UkrGazVdobuvannya contractor, is working well in Poltava with the gas production company, the People's Daily reports in an article headlined: "Chinese technology brings welcome changes for Ukraine oil and gas drilling." Noting that Beiken is drilling nine gas wells under a $59 million contract, the Chinese news site says the company has 249 Ukrainian workers and is investing in training "since Ukraine is comparatively weak in oil industrial infrastructure with limited drilling technology."  'Maksym' a UGV public relations manager in Poltava, says: "Chinese technology has brought welcome changes for us."
Over the last two years, Ukrainian companies have replaced 50,000 Russian-made parts for the nation's defense industry, President Poroshenko said Thursday, in Kharkiv, a major military production center. Due to this import substitution program, Kyiv's Antonov says it will resume jet aircraft production this fall. In Kharkiv, Poroshenko visited Turboatom and said the state turbine make has signed an $18 million deal with Energoatom, producer of half of the nation's electricity. On Russia, Kharkiv's eastern neighbor, he said that since 2014, the EU share of Ukraine's exports has risen to 42.6%, while Russia's share has fallen to 7.7%. He said: "Russia no longer has levers of influence to put Ukrainians on their knees."
Posco's purchase of the big grain terminal under construction in Mykolayiv means "billions of dollars and hundreds of additional jobs" for the Black Sea port, Yuri Budnik, head of the seller, Onexim Group, writes on Facebook. Writing "I don't have the right to disclose the details of the agreement," Budnik said negotiations with the South Korean company took two years. The terminal, capable of handling 2.5 million tons of grain a year, is to open in July.
Kherson and Mykolayiv, the two Black Sea ports closest to the Sea of Azov, had the biggest cargo increases of Ukraine's 10 largest ports in January, the Sea Ports Authority reports. Because of Russian harassment of Ukraine-bound merchant ships, cargo handled by Mariupol in January was down 27% year-on-year. By contrast, cargo handled by Kherson last month was up 27% y-o-y. Cargo handled by Mykolayiv was up 19%. On Monday, EU Foreign Ministers meet in Brussels to discuss sanctioning Russia for its interference in shipping in the Azov.
Turkish Airlines, the busiest foreign airline serving Ukraine, increased its passengers on Ukraine routes by 28%, topping 800,000, the airline's Ukraine director, Dinser Saychi, tells reporters. With the number of flights up 9%, the average occupancy was 71%.
Wizz Air was the fastest growing airline in Ukraine last year, recording a 73% increase in flights, to 15,251, according to UkSATSE, Ukraine's air traffic control agency. For the other top five: UIA increased its flights by 8% to 61,691; Turkish up 9% to 29,972; Belavia up 10% to 16,003; and LOT Polish up 24% to 15,813. Ryanair launched flights last fall and was not counted in the year-on-year comparisons.
Kyiv's train to the plane will expand with trains from Kharkiv and Dnipro going directly to the new rail platform at Boryspil Airport, Roman Wepritsky, regional rail head, tells Channel 5. Last year, Boryspil accounted for 61% of Ukraine's 20.5 million air passengers. To make airport access easier for Kyiv residents, Ukrzaliznytsia is building a multimodal — rail, metro, bus, and car  — terminal at Vydubichi, the green line metro station. Launched in December, the airport line is a money maker for the state railroad. Each passenger pays the hryvnia equivalent of $2.85 – 15 times more than the ticket for a comparable suburban train ride.