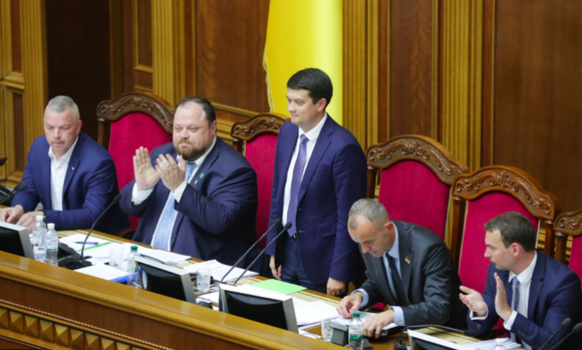 Friday, August 30
A New Generation Takes Over...PM Honcharuk Vows to Double GDP Growth to 5-7%...Low-Interest Rates Will Create 'East European Tiger' in the 2020s...US Grads To Run Finance, Economy, Ag... New Infrastructure Minister Promises Private Freight Trains, Toll Highways, Concessions for Ports/Airports..
In a generational turn of the wheel, the youngest parliament in the history of Ukraine history elected the youngest prime minister in the history of Ukraine — Oleksiy Honcharuk, a 35-year-old free-market reformer. The Rada, with an average age of 41, approved a pro-business cabinet of almost all new faces. Volodymyr Fesenko, an analyst with Kyiv's Penta think tank, told Reuter the new government is "the most liberal … in the history of Ukraine."

Setting an example for small government, the new Cabinet has 17 ministers – one third fewer than the 25 ministers of the outgoing Cabinet. Several ministries were merged. Near midnight, the new Rada voted to lift parliamentary immunity. A second, final vote is to be Tuesday.
Highlights of the day:
With this new parliament, President Zelenskiy said: "Now the country will finally be able to switch to fifth gear." In a call for action, he demanded: "The liberalization of the economy, the creation of a powerful investment magnet to attract foreign investment. Building a digital state in a smartphone, where queues at state institutions and hellish bureaucracy remain in the past. Elimination of raiding, monopolies, and smuggling. Gaining real energy independence, energy efficiency and solving tariff problems."
"A new generation has come to power," Prime Minister Honcharuk told the Rada and the nation. Since 2015, Honcharuk, a lawyer by training, served as an advisor to Ukraine's first deputy prime minister and was director of the Better Regulation Delivery Office, an EU-funded consultancy dedicated to cutting red tape. Honcharuk was elected by 69% of parliamentarians present Thursday, 290 out of 418. In a recent interview with Novoe Vremya magazine, Honcharuk said he wants to make Ukraine "an Eastern European tiger."
Ukraine's new Prime Minister called for doubling the economic growth rate. "This government faces the task of accelerating economic growth," Honcharuk told lawmakers, noting that 10 million Ukrainians lived below the poverty line. "We need to grow, but not to grow by 2-3%, but, at a minimum, by 5-7%." Honcharuk said talks will start in September with the IMF to "negotiate a new 3-4-year cooperation program."
Lower interest rates are key to economic growth in the 2020s, Honcharuk said. "Cheap lending is one of the tactical goals that we will set for ourselves in the near future," he said. Today, Ukraine's prime interest rate is 17%. Next year, Honcharuk says, he wants to see hryvnia home mortgage rates of 12-12%. "Interest rates on loans may fall this year," he promised. "People will start doing business. It can start with construction and industry."
On the central bank, he said: "Their independence is the basis of the country's macro stability. It cannot be undermined." That said, he added: "But the government should be in constant dialogue with the National Bank of Ukraine so that they are not too conservative." In a preemptive strike, Yakiv Smoliy vowed Wednesday to cut interest rates in half over the next 18 months, hitting 9% at the end of the year.
A review of all agencies, followed by a major purge of 'chiselers,' will happen in September, promised Honcharuk. He told the Rada: "We want to analyze the activities of all bodies and dismiss all ineffective leaders in the coming month.
Rada Chairman — Dmitry Razumkov, 36 years old, spokesman of Zelenskiy's Servant of the People presidential campaign last spring
Of three major economic portfolios, only Finance Minister Oksana Markarova keeps her post. Working for four years at the Ministry, first as deputy minister, then for the last year as a minister, Markarova has promoted the opening of Ukraine's local currency T-bill market to foreign investors. Holder of a Master's in Public Finance from Indiana University, Markarova is a fiscal conservative who has pushed long term budgeting for the government.
The Ministry of Economic Development and Trade goes to Timofei Milovanov, honorary president of the Kyiv School of Economics a co-founder of the influential VoxUkraine analytical platform. Holder of a doctorate in Economics from University of Wisconsin-Madison, Milovanov, has lectured at the University of Pennsylvania and served as a board member of Ukraine's central bank for the last three years. Last month, Milovanov organized a weeklong retreat for the 254-elected members of Zelenskiy's Servant of the People, serving them a daily diet of free-market economics.
The Economy and Trade Ministry will be bolstered by the addition of the Ministry of Agrarian Policy and Food. A pillar of Ukraine's economy, farm output accounts for 40% of Ukraine's exports.
In charge of trains, planes, ships, roads, and the mail, Vladislav Krikliy will be Infrastructure Minister. Last week, in an interview with the Center for Transportation Strategies, Krikliy predicted the Rada will pass in September a concessions law to allow private companies to build toll roads. After that, the government wants to pass a wider concessions law setting rules for private administration of airports, rail stations, and port terminals. Another law change would allow private freight and passenger trains. Shares of Ukrposhta, the state postal service, could be sold to strategic investors, such as AliExpress, China's online retail group.
 "We want to pass nine bills by the New Year that relate to the implementation of the agreement with the EU," he said. These include the Law on Rail Transport, the Law on Inland Waterways, the Law on Road Concession, and laws on vehicle weight control and safety inspections.
Key Cabinet Positions:
Foreign Minister — Vadym Prystaiko, a diplomat since 1994, he was Ukraine's Ambassador to Canada 2012-2014and later led Ukraine's mission to NATO. This summer, served as a deputy presidential chief of staff.
Vice Prime Minister for European Integration — Dmytro Kuleba, a veteran diplomat who is currently is Ukraine's envoy to the Council of Europe
Defense Minister — Andriy Zahorodniuk, 44, former head of the supervisory reform office at the Defense Ministry, and a member of the Supervisory Board of UkrOboronProm, the state-run military production congolomerate. In addition to raising the Army to NATO standard to defend against Russia, Zahorodniuk vows to fight corruption: "Everybody knows thievery take the place in the army, and the people are tired of his issue. There must be no corruption in the army."
Interior Minister – Arsen Avakov, retains the post he has held since 2014, despite criticism for not solving high profile crimes; Zelenskiy media backer Ihor Kolomoisky claims to be a close friend of Avakov. On Wednesday, 24 civil society groups and anti-corruption watchdogs urged Zelenskiy and the Rada on Aug. 28 not to re-appoint Avakov. David Arakhamia, Servant of the People fraction leader in the Rada, said ThursdayAvakov would stay in office for another 6 months "for a transition period."
Prosecutor General – Ruslan Riaboshapka replaces Yuriy Lutsenko, who also had a hard time prosecuting high profile crimes. A top official at the National Agency for Preventing Corruption  2016-2017, Riaboshapka quit saying that then-President Poroshenko was interfering in an independent anti-corruption body.
Health Minister — Zoryana Skaletska, healthcare expert and lawyer, deputy dean of the faculty of law at the National University of Kyiv Mohyla Academy.
Energy and Environment minister — Oleksiy Orzhel, 35, Servant of the People MP, head of the energy sector at the Better Regulation Delivery Office. 2006-2014, he worked at the national commission that regulated energy and utility services.
From the Editor: As usual, Ukrainian pundits are playing it safe, nattering that the new PM is 'untested', 'inexperienced' and will only be a 'technical' PM. They ignore the fact that the nation's 'experienced' politicians lost the development race with Poland. As for today, if you have an absolute majority in the Rada, why pick a wheeler-dealer for Prime Minister? This month, a nationwide survey found 48% of respondents saying the country's problems will be overcome in the next few years – up from 17% in 2016. While the population looks forward to the 2020s, their opinion 'leaders' cautiously cling to comfortable truisms — of 2016. Best regards Jim Brooke – jbrooke@ubn.news