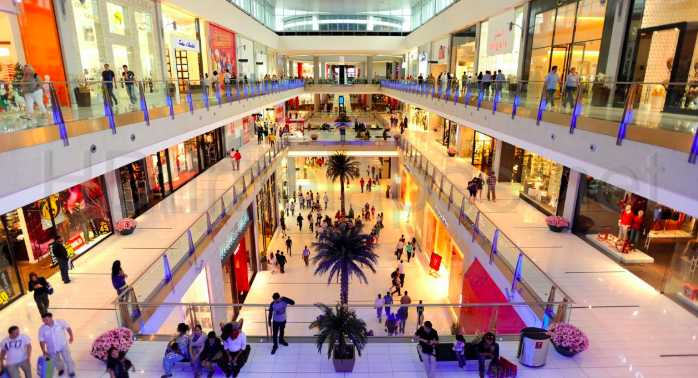 With retail a main driver of Ukraine's economic growth this year, 44 major retail projects are underway in Kyiv, placing on the nation's largest market 1.3 million square meters of new leasable space, reports the Ukrainian Trade Guild. "The lion's share will open before the end of 2020," reports the real estate consultancy. The retail vacancy rate is to rise above the current level of 5.5% and outdated shopping centers are expected to close. Several shopping centers owners are investing in modernizations, said Konstantin Oleinik, UTG's head of Strategic Consulting. By contrast, Kyiv's retail vacancy rate in 2016 was 12%.

River Mall, one of Kyiv's largest new shopping/entertainment centers, opened its Planeta Kino multiplex cinema yesterday. Under construction for five years, the $140 million mall has 62,000 square meters of leasable space: retail – 55,000; business center – 4,500; and water park – 4,000 Located on Dniprovskya Embankment, the mall has restaurants with river views and underground parking for 1,550 cars.
Dragon Capital is acquiring its third shopping center in Kyiv, Smart Plaza Obolon. Opened six months ago in an affluent northern residential area near Minska metro station, the shopping and entertainment center has a gross leasable area of 9,000 square meters. Around Ukraine, Dragon now owns five shopping centers, with a total retail portfolio of 170,000 square meters, says Tomas Fiala, Dragon's CEO. Ukraine is ranked fifth in the ranking of countries that have installed the highest number of onshore wind farms in the first half of 2019.
An average vacancy rate of .01% for the first half of 2019 is claimed by Arricano Real Estate Plc, a Ukrainian shopping center company with shares listed on the Alternative Investment Market of the London Stock Exchange. "This is a result of the systematic work, innovative approaches, and competent management in recent times," says Arricano CEO Mykhailo Merkulov. Arricano owns and operates five shopping centers, a 49.9% shareholding in Sky Mall, and land for three more sites.
Retail trade grew by 10% in real terms in the first half of this year y-o-y, reports Ukraine's State Statistics Service. With consumer confidence high after the decisive second-round presidential vote, retail jumped 14% in June y-o-y. In the regions, the highest retail growth in 1H19 occurred in Vinnytsia — 18%; and Cherkasy and Odesa –16%. Concorde Capital's Evgeniya Akhtyrko writes: "The retail boom is being fueled by fast growth in personal income…We expect real retail to increase 8-9% yoy in 2019 (vs. 5.8% yoy in 2018)."
Raiffeisen Bank economists Mykhailo Rebryk and Andreas Schwabe write: "The main driver in the current phase of the economic cycle is the recovery of private consumption after the deep slumps in purchasing power in the recent past. Demand is boosted by strong growth of nominal and real wages in double-digit territory, increases of pensions and social transfers, substantial remittances from millions of Ukrainians working in Poland and other (eastern) European countries (€4.5 billion or 5% of GDP of remittances in January to May 2019 alone) and finally, the return of bank lending activity, with consumer loans growing by 18.7% year-on-year in May 2019."
With movie theaters helping shopping centers compete against online shopping, Multiplex-Holding, Ukraine's largest movie theater chain, is increasing its screens by almost 30% this year, to 166, Vitaliy Pysarenko, the company's general director, said at a recent retail conference in Kyiv: "This year we have a huge construction program." Holding 40% of national market share, Multiplex aggressively expands online sales — from 5% in 2015 to over 50% today.
The entry and expansion of international brands also fuel Ukraine's shopping boom. Last year, Sweden's H & M opened its first two Ukraine stores, in Kyiv. Now the company plans to open two more stores in Kyiv, one in Kharkiv and one in Dnipro. In River Mall, Germany's Adidas is opening Adidas and Reebok stores, Spain's Women's Secret and Springfield are opening stores, and Intertop Ukraine is opening Ukraine's first standalone store of American outdoor brand The North Face.  Earlier this year, Decathlon, Claudie Pierlot, Missha and Weill opened in Kyiv shopping centers.
Denmark's JYSK, the furniture, and home goods store chain, plans to double its Ukraine stores to 100 by the end of 2023. In May, the company opened its 50th store, in Chernihiv, part of the plan to open one new store a month this year.
Sweden's IKEA is recruiting 100 employees for its first Ukraine store, now scheduled to open in Kyiv at the end of this year. Ikea was to open earlier in the new Ocean Mall shopping center, but the developer ran into delays with obtaining permits.
London's DC Evolution is working with UTG to develop and build a $100 million, 105,000 square meter project on the southern edge of Dnipro. Positioned to draw shoppers from Zaporizhia, one hour to the south, the project includes 52,000 square meters of retail, five apartment buildings with a total of 500 apartments and parking for 1,500 cars.
Three new shopping centers are to open in Odesa this year, adding 59,000 square meters of leasable area, reports UTG. Last year, three centers opened, adding 50,000 square maters. For the next five years, 16 projects have been announced. If built, these centers would double the city's current retail space, to 900,000 square meters. Due to corruption and bureaucratic controls, retail in the Black Sea port lags the nation, ranking sixth in Ukraine for retail space per 1,000 inhabitants. Next year's opening of the long-delayed airport runway is expected to increase international tourism.
Black Sea cruise ships are returning to Odesa, ending a five-year hiatus. Two ships, the Aegean Odyssey and Germany's Amera are to dock in October. Next year, 11 ships are booked to dock. For 2021, 10 ships already are booked. This year, the Viking Sineus is to dock 14 times in Odesa, the Black Sea end of its Dnipro River cruises between Odesa and Kyiv.
River routes through Chornobyl have been mapped out by state managers of the Exclusion Zone working with tour operators. To pass down the Pripyat and Uzh rivers, boats and guides would have radiation dosimeters, reports the Exclusion Zone agency. With tourism to the zone up 10-fold in five years, the water routes are to start next summer.
From the Editor: Ukraine Business News is now in English, Ukrainian, Russian and German. Check out our website – www.ubn.news. Share with friends and colleagues who want to follow Ukraine, Europe's next Frontier Economy. Best regards Jim Brooke – jbrooke@ubn.news