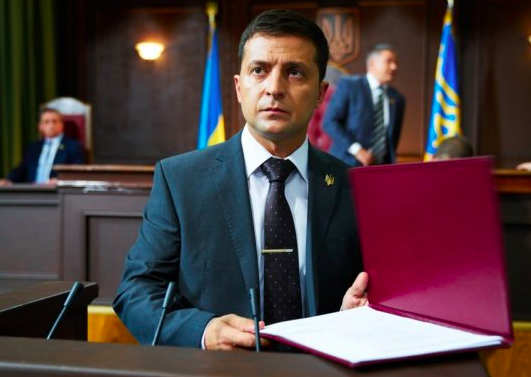 Friday, April 12
Three Polls Indicate Big Zelenskiy Win....Foreign Investment in Ukraine Treasuries up 4X...Trade with EU Up, Trade with Russia Down...Chinese Electric Bus Factory in Ukraine For EU? River Shipping Season Opens...A Hilton Planned for Lviv
Three new polls indicate Volodymyr Zelenskiy will beat President Poroshenko by a 2:1 margin in the April 21 runoff. The tally was 71% for Zelenskiy and 29% among decided voters interviewed by Ratings Sociology Group. Of the 3,000 voters interviewed face to face, 61% of respondents predicted Zelenskiy will be Ukraine's next president. Two thirds of Zelenskiy voters described their vote as a protest vote. Similar 2:1 margins were reported by Razumkov Center and Kyiv International Institute of Sociology.

In the Rating poll, 83% of respondents said the country needs radical changes and 52% predicted the country will improve as a result of the elections.  Zelenskiy led in all age groups and across the nation, but for the West where he was tied with Poroshenko. Concorde Capital's Zenon Zawada writes: "Zelenskiy's victory is inevitable, barring any force majeure events….We recommend our clients to assume a Zelenskiy victory as the base-case scenario in the Apr. 21 runoff vote – which the bond market has already done."
Foreign investment in Ukraine's UAH treasury bonds has quadrupled since the start of this year, hitting almost $1 billion, according to the National Bank of Ukraine. The increase to 25.8 billion hryvnia is attributed to: high interest rates, lack of concern about the presidential election, and the expectation that the opening in coming weeks of the Clearstream clearinghouse link will increase demand and lower spreads for Ukraine bonds.
A 5% tax amnesty starting next year, a tax on capital withdrawals, international exchange of tax information,  creation of a Financial Investigations Service, and creation of a legal mediation alternative to litigation are among the measures the Zelenskiy team would submit to the Rada, according to a report in liga.net. These economic steps were sources to Ruslan Stefanchuk, the 'campaign ideologue,'  and Danylo Hetmantsev, the campaign's expert on economic and financial issues. The report also said former foreign minister Oleksander Danylyuk would be named Foreign Minister. Concorde Capital's Zenon Zawada writes: "This list of promises goes a long way to remove doubts in the minds of voters about Zelenskiy's commitment to Ukraine's Western integration."
Speaking for candidate Zelenskiy at a large agricultural convention, Danylyuk said the Zelenskiy team favors creating a transparent land market. In a poll of representatives of nearly 500 farming companies at the Ukrainian Land Forum, about half said they favored restricting farm land purchases to Ukrainian citizens. As to size, 52% said company farms should be limited to 5,000 hectares and 22% favored a limit of 22%.
Setting an example for Ukraine, Moldova's Aragvi Holding International Ltd., has successfully launched Moldova's first ever international bonds – a $300 million, five year Eurobond issue. Fully subscribed last week the bond, with a 12% coupon, had this buyer profile: EU 33%; Switzerland 29%; Britain 19% and US 18%. Aragvi's Trans-Oil Group specializes in growing and crushing sunflower seeds and exporting oil through Moldova's Danube river port of Giurgiulesti and Ukraine's adjacent port of Reni. The bonds are listed on the Irish Stock Exchange.
Trade with the EU is up, and trade with Russia and the CIS is down, according to first quarter statistics release by the State Fiscal Service. Ukraine's trade with the EU grew 6% q-o-q, to $11.2 billion. Exports were up 3%. to $5.2 billion. Imports were up 9%, to $5.9 billion. During the same January-March period, trade between Ukraine and the CIS, including Russia, was down by 5%, to $4.3 billion. Exports fell by 6%, to $1.5 billion. Imports fell by 4%, to $2.8 billion.
Ukrtelecom JSC, the nation's land line telephone company, starts in May $10 million, two year project to lay 3,500 km of fiber optic lines to bring high speed internet to 300 small towns and villages, the company reported Tuesday. Ukrtelecom, owned Rinat Akhmetov, will work with Slovenian telecommunications company Iskratel. Half of the budget is funded by SID Banka, Slovenia's development bank.
The Infrastructure Ministry is negotiating with a Chinese company to make electric buses in Ukraine, allowing easy access to the booming EU market. "Together with the Chinese business, we are trying to set up production of electric buses in Ukraine — the demand for electric buses in Europe is crazy," Minister Volodomyr Omelyan told a Kyiv briefing, according to the Center for Transportation Strategies. Shortly after he spoke, Paris transport operator RATP announced three French companies – Heuliez Bus, Bollore and Alstom – won a €400 million tender to supply 800 electric buses by 2022. By the 2024 Summer Olympics, Paris Mayor Anne Hidalgo wants all of the city's 4,700 buses to run on electricity or biofuels.
After a three-month winter closure, the Dnipro is open for shipping with the locks open all the to Kyiv. At the start of the river shipping season, Yuriy Lavrenuk, deputy infrastructure minister, believes Dnipro cargo will grow, building on last year's 22% rebound, to 10 million tons. "River transport is becoming more and more relevant and relevant," he told a recent transportation meeting in Kyiv. "We see new carriers emerging on the river transportation market. Our goal is to reduce the load on Ukrainian roads by redirecting part of the cargo to the river." Cargo by Ukraine's ports on the Danube was 6 million tons, and on the the Southern Bug River, 600,000 tons.
Increasing rail freight cargo rates and a highway crackdown on overweight trucks will push more cargo to river barges, predicts Dmytro Kozachenko, executive director of the Ukraine Rivers Association. He tells Interfax-Ukraine: "We are still far away from the figures before the 1990s, when 60 million tons of cargo were transported on Ukrainian rivers. However, we can talk about some recovery of the market." According to the State Statistics service, the river cargo breakdown last year was: construction materials — 39.5%; ore — 14%; and grain — 11%.
Two weeks after authorizing an 'open skies' aviation agreement with Qatar, Ukraine's government proposes to Qatar Airways to start a local carrier. "We are ready to support the creation of Qatar Airways Ukraine," Infrastructure Minister Volodymyr Omelyan tells U Vidpustku travel site. "This is a serious offer. We see that we are chronically short of airplanes on the domestic market of Ukraine." Separately, Qatar Airways seeks to fly to Amsterdam via Lviv. Omelyan said that Wizz Air has applied to reopen Wizz Air Ukraine, closed in 2015.
Starting Sunday, Ukrainians can visit Thailand for 30 days without visas. UIA flies from Kyiv Boryspil to Bangkok Suvarnabhumi five days a week.
A Hilton hotel is to be built in Lviv, Mayor Andriy Sadoviy said at a City Council meeting. The hotel, with 157 rooms and apartments, is to be built on a site in Bohdan Khmelnytsky Park, the city's best known park.  "They want to build a hotel, it seems, Hilton," the mayor said.  "Half of the building should be a classic hotel, half of the building – an apartment hotel. This should be a building of high architectural level – a work of art."